Did you know that the earliest Kashmiri civilization dates back to 3,000 BCE? You can imagine the centuries of deep-rooted history, traditions, and way of life the people here follow. Their customs are portrayed through their art, architecture, beliefs, festivals, food, language, dance, and music. Ever since humans settled in the gorgeous valley of Kashmir, it has been a source of constant charm and happiness. The air is clean, hills are covered entirely in green trees and no matter which time of the year you go you will be treated with surreal natural beauty. The beauty here is so intense and jaw-droppingly gorgeous that even your camera may seem like a useless tool to capture its beauty.
You have to go there and experience it in real-time because no amount of words, poetry, painting, or stories could summarise the serenity this place offers. If you are there or are planning to go to Kashmir then remember to shop for some locally or handmade souvenir items. Not only do they help the small local businesses but it also truly captures the Kashmiri culture in its complete glory.
Here are some things that you just have to buy when in Kashmir
Pashmina Shawl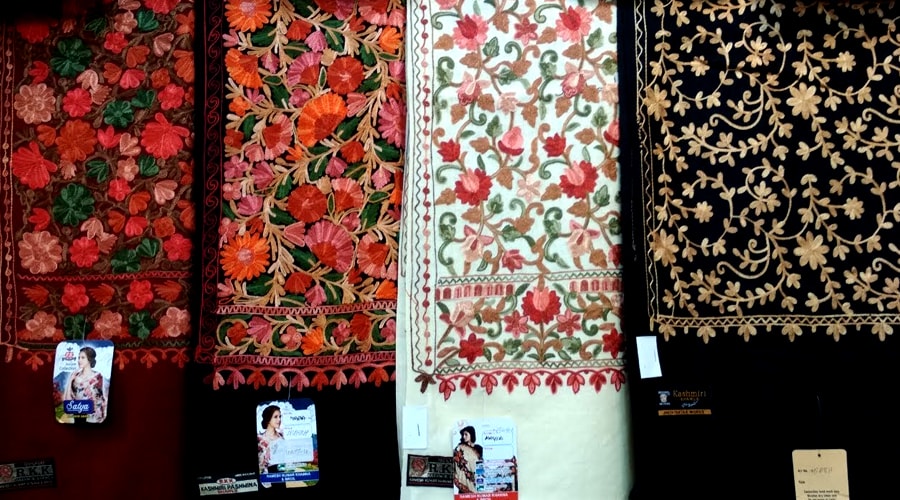 This has to be the most obvious one. No matter which part of India or the world you are coming from, you may already know that Kashmir is famous for its Pashmina shawls. Pashmina is unlike any other warm piece of winter clothing material because it very nicely warms you up and the material is not thick, in fact, it is super thin. Its smoothness, warmth, and softness is unlike any other winter material. You can also find pashmina blankets here. A must-buy for everyone visiting Kashmir.
Traditional Kashmiri Jewellery
The rich ethnic culture and traditions of Kashmir is best captured in its jewelry collection. Even if you don't like jewelry, traditional neckpieces, rings, earrings, and bracelets on display in the marketplaces will definitely catch your interest. It is clear that Kashmiri women love dressing up and adorn themselves in stylish pieces of elaborate jewelry that are made by them. The high precision and fine designer work on these jewels along with the use of Semi-Precious stones adds a luxury high fashion aesthetic to them. It goes without saying that these Kashmiri ornaments should be a must-buy.
Paper Mache Products
Paper Mache Products in Kashmir are made with incredible care and finesse. The art of converting waste paper into beautiful pieces of decorative items is something that Kashmiri folks have managed to become an expert in. They look very quirky and will go perfectly anywhere in your home. The dried Mache product is then brightly painted in quirky colors and designs that makes it even more pretty and unique in its own being. Some of the most popular items made with Paper Mache are caster set, jewelry box, vase, and other interesting decorative items.
Dry Fruits
Your Kashmir visit remains incomplete if you don't get your stock of dry fruits collection. Dry fruits make for a very major part of worldwide Kashmiri products. We all know about the positive impact of any sort of dry fruits on the mind, body, and soul-making it an important part of the local's diet and something that every visitor makes sure to buy. They offer an extensive range of dry fruits like almonds, walnut, cashews, figs, and hazelnut. You may find dry fruits anywhere but the organic and rich flavor-packed quality of Kashmiri origin dry fruits cannot be replicated anywhere.
Kashmiri Tea
Noon chai or Kahwa which is also referred to as Kashmiri Tea by the rest of the world is one of the defining features of Kashmir. One thing is clear, tea offers a soul-warming effect during cold weather making it an important part of their life. If you wish to feel like you are in Kashmir even when you are not then you must get yourself a pack of Kashmiri tea which is widely available anywhere mainly because they are also widely grown in the thriving Himalayan soil. Noon chai is pink and made with milk, Kashmiri tea leaves, salt, pistachios, almonds, and a touch of cinnamon for some sweetness.
Kashmiri Spices
Kashmiri food has a fan base of its own. Unlike any other place in the world, where spices are mass-produced in massive factories which steals away its natural flavor, Kashmiri spices are handmade and locally produced which helps retain its natural flavor while cooking. Once you have food using Kashmiri-produced spices you will not go back. The aromas, flavor, and that extra punch of tanginess enhances the flavor profile of any dish. Kashmiri Mirch or Red Chilli Powder and Kashmiri Garam Masala mix should definitely be in your shopping cart.
Saffron
Speaking of Kashmiri spices, the king of spices should not be missed out. Saffron is grown hugely in Kashmir and is known all over the world for its intensive commercial saffron production. Locally referred to as Koung, it has every reason to be one of the most expensive spices in the world, and the painstaking job of cultivating, growing, and harvesting saffron to perfection has been achieved ace level by the local population. Some places where you can easily find the best, purest and pristine quality of saffron are in the 4 districts of Pulwama, Kishtwar, Budgam, and Srinagar.
Walnut Wood Decorative Items
Walnut wood is a type of wood that has warm and Ric Color undertones. Being a fine-grained hardwood, it is dense and shock-resistant in nature. All these features make walnut wood the perfect type of wood for furniture and wood carving. This is why you will find numerous wood-carved products and designs in abundance in Kashmir. Although in many places walnut trees do not gain height, in Kashmir valley these trees grow longer than the usual ones. You can easily find wood-carved decorative items.