Unbelievable natural beauty, scenic vistas, and the serene lake against the backdrop of the snow-clad mountain ranges. Sounds like a dream? We can make this dream come true with our 5 days and 4 nights of amazing Kashmir tour. Kashmir is truly heaven on earth with impeccable alpine beauty and the ever-present lush greenery which is amplified through their beautiful cities like Pahalgam, Sonamarg, Gulmarg, and Srinagar. A visit to Kashmir is on almost every traveler's bucket list and it should be! The historical and political significance of this place spans over centuries and is one of the most mesmerizing destinations for literally everyone. Check out the itinerary and plan your trip to Kashmir right away!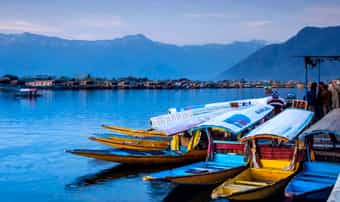 | | |
| --- | --- |
| Tour Duration: | 04 Nights / 05 Days |
| Destination: | Srinagar - Pahalgam - Sonamarg |
| Tour Price: | On Request /- |
Day 01: Arrival in Srinagar
Your dream holiday to Srinagar starts with your arrival in Srinagar from your place of departure or your hometown. Upon your arrival you will be greeted by our tour representative who will guide you to your next leg of the day trip. Since you will be arriving early in the morning you will have the whole day to check out interesting tourist destinations in Srinagar.
First of all you will immediately be taken for a refreshing jetty ride to your hotel for the day which will be a houseboat in the scenic Dal Lake. After checking in to the houseboat you will be offered lunch. Post lunch you will be given some time to spend in leisure, rest and rejuvenate after a long day of travel.
In the evening and after a refreshing nap you will be taken to Nehru Park for a wonderful Shikara Ride. After a peaceful ride on Shikara you will be taken back to your houseboat for an overnight stay.
Day 02: Srinagar – Pahalgam
Early in the morning you will be given a delicious breakfast in the houseboat. After this you will be taken to your next destination of Pahalgam which is 55 kms away from Srinagar. En route you will be stopping over at a popular tourist attraction which is the Martand Sun Temple. Finally on reaching Pahalgam you will be checked in to your hotel which will also be followed by a delicious lunch. The remainder of the evening is free for you to relax and explore your surroundings in peace and at your own pace. Dinner will be served by night followed by an overnight stay.
Day 03: Pahalgam – Gulmarg – Srinagar
Early in the morning your day will begin with a delicious breakfast in your hotel in Pahalgam. Post breakfast you will be made to head on to the next destination mentioned in the tour itinerary for Kashmir tour package which is Gulmarg. Here you have the option of going for nature walks, bird watching and even go on food trails of delicious local Kashmiri cuisine. After lunch you will be taken for the famous gondola ride. The ride will be exceptionally beautiful and will also give you panoramic views of the tallest peaks in Gulmarg.
After the gondola rides, you will be transferred to your hotel in Srinagar, followed with a delicious dinner meal and a relaxing overnight stay.
Day 04: Srinagar – Sonamarg – Srinagar
The next leg of your itinerary will be as mesmerizing as the previous one. Early in the morning after a delectable breakfast meal you will be headed to Sonamarg for a day of excursion and fun in the beautiful meadows here. Sonamarg is 2 to 3 hours away from Srinagar and the name literally translates into a 'meadow of gold'. Sonamarg has immense historical significance as it used to be the gateway to the world famous silk route during ancient times. Today it has become a popular destination for hikers, trekkers and fishers looking to add a hint of adventure and history into their holiday plans. After a day out in Sonamarg you shall be headed back to Srinagar and back in your hotel for an overnight stay and a dinner meal.
Day 05: Srinagar Departure
Early in the morning you will be given your breakfast at your hotel in Srinagar to start your day on a healthy note. After breakfast you will be checked out of your hotel and taken to your point of departure like stations or airport. Srinagar to the airport is 15 kms so you will have to make sure to leave on time. The drop off at the point of departure will mark the end of your Kashmir tour package with us.