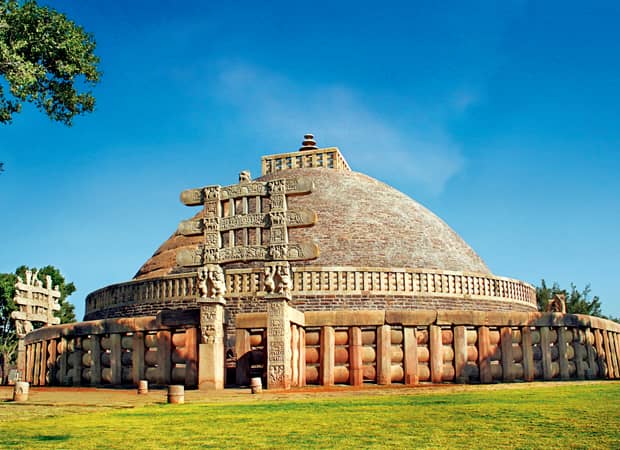 Madhya Pradesh Travel Guide
| | |
| --- | --- |
| Capital: | Bhopal |
| Population: | 72,626,809 |
| Religion: | Hinduism 90.89 % | Islam 6.57 % | Buddhism 0.30 % | Christianity 0.29% | Sikhism 0.20 % | Jainism 0.78 % |
| Area: | 308,252 Km2 |
| Language: | Hindi, Marathi and Urdu |
---
Weather:

32° C - 26° C
Ideal Duration: 2-3 Days
Best Time: Mar-Jun
Nearest Airport: Bhopal
Gracing the central region of the Indian sub-continent is the historical and pious Land of Madhya Pradesh which is lovingly known as 'Hindustan Ka Dil' or the heart of India. Over the years this state has made a gradual increase in the tourism sector. This region of the Indian landscape is varied in its relief form and serves as home to a plethora of plants and animals. The rich sprawling forest cover, Gushing River, and the incredible historical account makes this state one of a kind. Tourism in Madhya Pradesh will take you on an awe-inspiring trip back in time.
The state has a very distinct form of art, craft, and handicraft culture and belief system. The old temples can be seen dotting the land of MP which in fact is the dominant factor of exploration here. One can come here to experience the serenity of the beautiful forest land of the Saputara National Park and just get away from the chaotic tourist spots or explore the ancient abandoned land of Orchha which has intricate structures called Chhatris and is very unique to this area. Taking a walk in the past here seems extremely refreshing and shows you what makes India incredible in every way.
Some places that will definitely be included in your Madhya Pradesh Travel Guide are Gwalior Fort, Taj Ul Masajid, Khajuraho, Pachmarhi, Bandhavgarh National Park, Kanha National Park, spiritual centers of Ujjain and Indore and many more. Due to its location, the wildlife ecosystem in MP supports a huge plethora of plants, animals, and birds who co-exist in complete harmony.
This can be seen by taking a fun and thrilling jeep safari ride in one of the many national parks that adorn this state. Traceback the history of civilization by also taking a trip to see the Mesolithic rock painting at the UNESCO world heritage site of Bhimbetka rock shelters.
Did you know Madhya Pradesh has a vast collection of evidences like rock cave paintings and fossils that date back to 40-150 million years ago. This state truly is a living time machine that propels you back in time. It is a wonderful amalgamation of forested hills, grasslands, plains and so much more that cannot be described in words but only be experienced and felt in real-time. This place is perfect for a holiday getaway from friends, family, loved ones and even kids making it a destination or everyone.
The place offers a wholesome experience ranging from scenic and thrilling getaways for wildlife exploration to spiritual temple tours of the Jyotirlingas and other important Jain Places of worship. It is one place in India where people can not only have a spiritually active time but also have some fun-filled activities that cannot be experienced anywhere else. Visit Madhya Pradesh for its rich cultural heritage, incredible selection of unique flora and fauna and of course one of the kind temples. Madhya Pradesh is much more than the region surrounding the heartland of India; it's an experience in itself.
About Madhya Pradesh
The central state of Madhya Pradesh is replete with historical accounts, religious significance and a thriving wildlife selection. Bordered by the states of Uttar Pradesh, Chhattisgarh, Maharashtra, Gujarat, and Rajasthan the largest and the most prominent cities of the heartland of India includes Indore, Gwalior, Jabalpur, and Ujjain. The present-day state includes the ancient region of Avanti Mahajanapada whose history dates back to even before 6th-Century BCE. This place has quickly gathered a lot of attention among the word travelers for its valuable resources and attractions.
The history of Madhya Pradesh can be traced back to the wonderful Narmada Valley where the remains of Homo erectus and painted pottery have been unearthed. This is evidence enough to prove the fact that this central part of the Indian landmass had been inhabited since a very long time. Various places mentioned in different epics have also been traced to various regions in and around MP. Later on Ujjain became a major center for trade and commerce during the 6th century BCE. It has seen a lot of history and has been ruled by various kings and rulers making it a dynamic destination for exploring the history of this place.
It is particularly known for its varied selection of flora and fauna that can be experienced by going to its different national parks like Kanha National Park, Bandhavgarh National Park, Satpura National Park, Van Vihar National Park, Panna National Park and more. The nature reserves of Bagh Caves, Amarkantak, Balaghat, Narwar, and Chambal have a unique personality of its own that cannot be experienced anywhere else in India.
The Rivers of Narmada, son, and Betwa beautify everywhere it makes its way through and also serves as a place where different Ghats are created for the pilgrims to perform different religious rituals and ceremonies.
The region is dotted with fortresses, ancient temples, unique cave works and much more that reflects and proudly showcases the rich and well-preserved cultural heritage of Madhya Pradesh. Gracing the foothills of the magnificent Vindhya ranges, and home to the UNESCO world heritage site of Bhimbetka rock shelters, Sanchi Stupa and much more the jewels that beautify the landscape of Madhya Pradesh cannot be replicated or seen anywhere else in India or the world. From the Mauryan Empire to the current ages this place has been through a lot of dynamic and good changes which has set the bar high for its contemporary travel destinations in India.
This exotic land of promises is adorned everywhere with beautiful and charmingly vibrant attractions. A world heritage site, this 2nd largest state of India is lavish, colorful and has an incredibly pleasing personality of its own. From its delicious food to the type of clothing and traditional wear, everything about Madhya Pradesh is whimsical and filled with wonder in every way. No matter where you are coming from or what age group of people you are traveling with this place will definitely leave a long-lasting impression in your heart for times to come.
Holiday Packages
The holiday packages for MP are designed in such a way that allows you to have a complete and wholesome holiday experience in the heart of India. These packages are priced appropriately and include visit to the national parks, UNESCO World Heritage Sites, temples, attractions and forts/palaces. Everything about this state is very different and unique when compared from the rest of India. These packages intend on giving you a completely immersive experience by going to different places of tourist attractions and spiritual hotspots. Book an MP package of your choice for a completely different holiday experience.
Things to Do
With the plethora of options available in this heartland of India you will never get bored even for a single day. One can indulge in a variety of activities here like going on a thrilling jeep safari for various animals sightings, getting in touch with your spiritual side by going for Darshan by going on a complete temple Darshan tour or checking out the incredibly intricate and glorious palaces and forts. This will be truly a one of a kind experience and will leave a lasting impression in your hearts and mind while also adding a significant page in your travel journal.