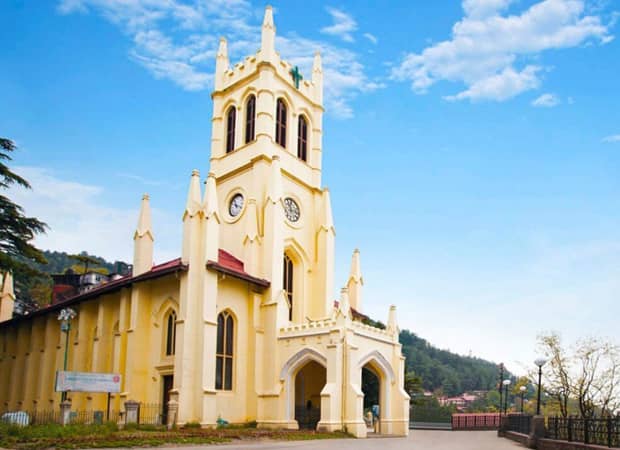 Shimla Travel Guide
| | |
| --- | --- |
| Location: | Himachal Pradesh, India |
| Population: | 169,578 |
| Religion: | Hinduism 93.50 % | Islam 2.29 % | Sikhism 1.95 % | Buddhism 1.33 % | Christianity 0.62 % | Jainism 0.10 % |
| Area: | 35.34 Km2 |
| Language: | Hindi, Sanskrit and English |
---
Weather:

16° C - 0° C
Ideal Duration: 2-3 Days
Best Time: Mar-Jul
Nearest Airport: Shimla
Tourism in Shimla has always been the topic of conversation among people of India not just in the present day but also ever since it was established as the summer capital. The quirky atmosphere, imminent presence of a divine vibe, and the opportunity to chill out are what makes Shimla one of a kind in its own way. Named after the avatar of goddess kali, Shyamala Devi, the cool air of Shimla is enough to wash your worries away and leave you feeling completely mesmerized with the untouched remarkable natural beauty which is engulfed in every corner and step of the way here?
Covering an area of about 25 sq. km. and surrounded by lush green forests of pine, deodars, and oaks, this place is very well developed for tourists to come here solo or with family and loved ones to spend some memorable time. For many Shimla has been the first hill station that they have ever visited and so that is why the memory remains fresh in the heart of everyone. If you are looking for some change of scene by immersing yourself in the bountiful natural beauty then Shimla is the place for you. From exploring the deep wilderness to going on immaculate tours depicting the unmatched Himalayan beauty is something every traveler looks forward to.
It is a paradise for travelers from all walks of life. You can choose from a variety of different types of accommodation to suit your needs. You can choose from a range of lavish cottages and resorts for a luxury holiday to budget-friendly hotel rooms, hostels, and even bunk beds at very cheap rates. You can travel from anywhere in the world and you will definitely carve out a special space in your heart for Shimla. Reaching Shimla is also not a big deal. Roads are well developed and connected while there are flights that land in the airport nearby and you can even choose to travel in a train if that suits your budget best but one thing is for sure, get ready to walk a lot.
Everything is a part of the whole Shimla experience that will be super memorable and happy for all your life. The vibe here is incredibly enriching and very spiritual while also being adventurous and full of thrill at the same time. This means that no matter what your age is or where you are coming from or even what your travel budget is, a memorable time in this quaint, colonial, and epic hill station is guaranteed.
About Shimla
Shimla is all about good vibes, comforting food, welcoming people and overall a good time with your friends, family and loved ones. Way before it was turned into the summer capital of the British, it was covered almost entirely in thick green cover. The ancientness of Shimla goes back to the 2nd and 3rd centuries because its name has been found in great Hindu works of literature like the Upanishads and Mahabharata. It has become the face and the definition of a chill summer holiday trip with the family. The sound of the river running through, the greenery in every corner of the city, and an undeniable feeling of pure spirituality is what makes this place special.
Shimla graces the southwestern range of the Himalayas and with an average altitude of about 2,000 meters above sea level. This helps in maintaining a cool, pleasant, and comfortable climate throughout the year for travelers to visit and explore. Not only is it one of the largest hill stations in India but this capital city of Himachal Pradesh, is also the largest city of Himachal. There is so much more to Shimla than people actually realize. They get distracted by the commercial aspect and forget sometimes that this hill station was once the cradle for the development of Hinduism.
When it comes to making holiday plans for Shimla, any time of the year is good! The elevation is not too high and the roadways have built amazing roads. If you live around Shimla, you can easily take your car and reach there in no time.
You can go there to get away from the scorching heat of the plains or if you just wish to experience the real feel of Himalayan rains. Taking a walk on mall road during the pleasant autumn time or having a fun snowball fight during the peak winter season has a fan base of its own.
With the development of Shimla came the awesome sightseeing places to entertain the visitors and travelers of all ages. Some of the must-see places in Shimla include the ridge (rather an unmissable part of Shimla tour), Jakhoo Hill and temple, mall road (a must visit to buy souvenirs and other stuff), Kalka-Shimla railway line, Christ Church (the landmark of Shimla), Green Valley, Kufri, Himachal state museum and Kali Bari Temple to name a few. Everything about Shimla represents the beautiful combination of natural beauty and untouched serenity with a hint of impeccable spiritualism.
If you are still wondering if spending your holiday in Shimla will be a wise decision or not then consider this, no other hill station in India offers the dynamic range of facilities, touring opportunities and a moment for you to just sit back, relax and enjoy your time as the world goes on. It doesn't matter what your favorite activity is, be it bird watching, meditation, temple hopping, or something else entirely, Shimla can be your one-stop favorite destination to have a wholesome memorable time.
Holiday Packages
Shimla holiday packages are designed to suit the needs of every type of traveler coming to Shimla from different backgrounds. From exploring and sightseeing in Shimla to going on an adventure and thrilling wildlife experience, everything about a Shimla vacation is memorable. The perfect place to spend your honeymoon days, the best destination to get some time off from the chaotic city life and the first choice for families and groups of friends to go for an extended weekend holiday, Shimla holiday packages are made to be very interesting, memorable, exciting and of course reasonably customizable to meet your requirement.
Things to Do
Shimla is one of those unique destinations where there is something to do for everyone. It doesn't matter where you are coming from or what your intention of traveling is, Shimla offers that and much more. You can go check out the temples of Shimla, have fun at the sightseeing spots with your family, go solo and chill out among the green hills, experience the rich culture through their festivals, and of course, try out their deliciously and locally prepared food. Every step of the way in Shimla will introduce you to brand new adventures and memorable opportunities that will make you keep coming back for more.