Shimla has to be one of the most beloved hill stations in north India. Located in the heart of Himachal Pradesh it is bound on all sides by rolling hills of green, underlined by the snowcapped peaks and enveloped in an air of deep spirituality and solitude at the same time. Ever since the British decided to make Shimla their summer capital, it also invited the native rulers who wanted to get away and have some respite against the hot and scorching summer season of the plains.
No matter how many rulers, empires or kings wanted to make Shimla their own; the people never forgot their roots, their age-old heritage, and culture. This can be seen not only through their fairs and festivals but also through their clothing. If you are observant enough you will even be able to recognize which community or tribe the locals of Shimla belong to. The traditional dress of Shimla for men and women is not only a way for them to dress up but it is their identity.
Here is everything you need to learn about the traditional dress of men and women in Shimla:
Traditional Dress of Men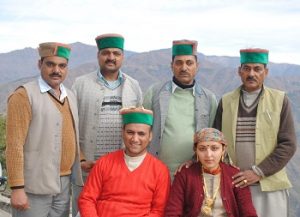 Nowadays almost everyone in India is seen wearing western clothes like jeans and t-shirts or trousers, but in the traditional core regions of Shimla, men can be seen wearing traditional clothing. The entire region of Himachal is divided mainly between the raj puts and Brahmins which is clear with their dressing style. Although the attire is largely similar there are some minute differences.
Rajput Men – They wear tight Churidar, pajamas with long Kurta and a silk coat on top. Keeping in mind the weather conditions this coat is also made up of yak wool and leather which is entirely stitched using gold thread that ensures this clothing style is warm enough for them. The iconic headgear of a colored and starch stiffened turban. Men who wear Himachali Topi and fashion long moustaches are considered to be a sign of pride and honor, especially among Rajput men.
Brahmin Men – Since Brahmins are the most respected part of the society, Brahmin men are seen wearing Kurta and Payjama along with an overcoat or a waistcoat. To set themselves apart through their clothing Brahmin men also carry a soft white cloth on their shoulder with white being their dominant color of choice.
Traditional Dress of Women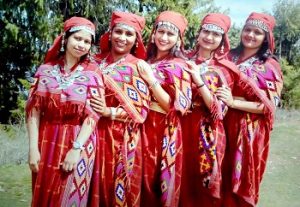 No matter where you go in Shimla you will definitely be mesmerized by the clothing and traditional styles of the local Himachali women. Just like in the case of the men, women are also divided into 2 parts: Brahmins and Rajputs. Here is how they are recognized in a crowd of people.
Rajput Women – Himachali Rajput women wear a long colored and traditionally patterned Kurta that goes from neck to toe. This style of clothing especially became popular after the purdah or the veil system was introduced to these regions of Himachal. You will also see women wearing colorful layered long skirts, Ghagra with Cholis, and even Salwar Kameez. Ethnic bangles are an unmissable part of their entire traditional clothing ensemble.
Brahmin Women – Similar to Rajput women, Brahmin women also wear traditional similar clothing that consists of Salwar Kameez and Ghagra Choli. During special occasions like weddings, Himachali Brahmin women wear long pajamas and traditional Ghagra Choli woven at home using intricate designing patterns. The footwear is made out of either animal skin or grass which helps greatly in keeping the feet warm. They also sometimes hold the whole look using new bangles, earrings, and rings.
Traditional Jewellery and Ornaments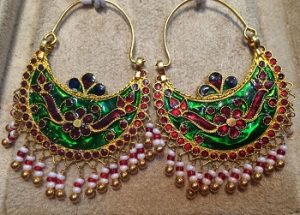 Keen observers would say that Himachali women are super fond of intricate Jewellery like elaborate necklaces, bangles, anklets, and earrings. They even sometimes add some interesting colorful headpieces which further amplifies the beauty of their look as a whole. In local terms, the women adorn themselves with a silver domed piece of head Jewellery called Chakk, Chandrahar which is a neckpiece with an elaborate yet ethnically enriched pendant, Chiri is something that looks similar to that of a Maang Tikka, toke which are wristbands and Pari is a foot necklace. Of course, the whole look truly comes together when combined with a beautiful pair of gorgeous Jhumkas or earrings.
Tribal Himachali Dresses
Other than Shimla, which has clearly gotten a bit too commercialized, there are many tribes existing in the remote and deeper core regions of the state like in Kinnaur, Lahaul, Spiti, and even some places around Manali. Some famous traditional tribal pieces of clothing include Dohru, stall, and Bushehri Topi. By now you must know about the importance of wearing traditional Topis in Himachali communities. Tribal women who can be seen working in farms or just commuting love wearing bulky silk ornaments made out of silver or other materials. They especially love dressing up for functions or wedding events. The Tribals from Lahaul and Spiti also make sure to wear attractive and very colorfully eloquent pieces of clothing.
The traditional clothing style, pattern, design, and layering of the people in Shimla tells us a lot more about their life, community, and livelihood than anything else. One can decipher a lot about someone through the pieces of clothing they are wearing.