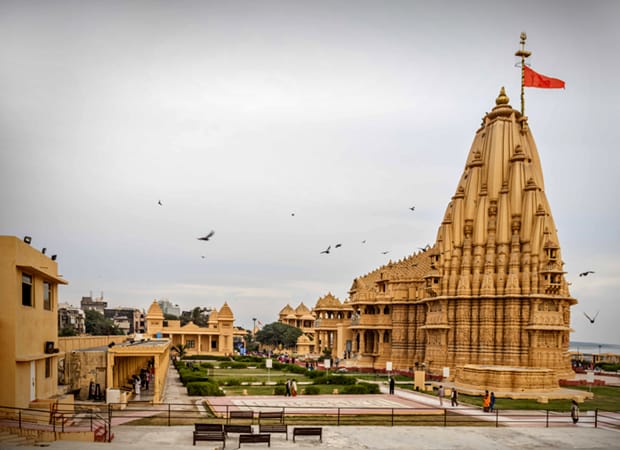 Somnath Travel Guide
| | |
| --- | --- |
| Location: | Gujarat, India |
| Address: | Somnath Mandir Rd, Veraval, Gujarat 362268 |
| District: | Gir Somnath |
| Completed‎: | 1951 (Present Structure) |
| Governing Body: | Shree Somnath Trust of Gujarat |
---
Weather:

10°C - 35°C
Ideal Duration: 2-3 Days
Best Time: Oct-Mar
Nearest Airport: Diu 63 Km
The Somnath temple is an important sacred site for Hindus and attracts scores of pilgrims every year. It is believed to be the first of the 12 Jyotirlingas of Lord Shiva. But far from being only a religious site, Somnath holds marvels of history, culture, art, architecture along with being in the lap of nature, outlined by the Arabian Sea.
For a history buff, Somnath offers a rich glimpse into the past, its glory and shame. Having been attacked, pillaged for about 17 times, the Somnath temple has through history been a significant site for trade, religion, and cultural importance. The Somnath museum is a museum worth visiting even for everyone as it allows you to peep into the glory of the past and its passage to the future. This museum houses exquisite artifacts of earlier temples, art treasures dating back to ancient India, holy water of different rivers. 12th-century toranas, carved pillars, ancient stone apsaras, 11th-century sculptures of Lord Agni, Vishnu, Parvati, Mantra Bhairava, Uma Maheshwar – everything to get a history enthusiast absolutely enthused.
The Somnath temple itself is a marvelous example of the Chalukya style of Hindu architecture, adorned with intricate carving on pillars, cornice for downward movement of rainwater, a manner to protect from the scorching heat, soapstone projections for wall carvings and many other facets that not only make it a feast for the eyes but also an engineering marvel to appreciate. There are more historical and architectural wonders to be found in the fortified town of Veraval city, Junagadh gate Chorwad, taking you back into a time filled with enigmatic art and culture.
But there is much more to Somnath than just architecture, history, and religiosity. Its proximity to the coast adds another vibrant dynamic to this beautiful place. The Somnath Temple itself has the backdrop of the Arabian Sea and the strong waves can be heard hitting the sea shore as you bow down before Lord Shiva in the temple. Somnath beach has fine sand and strong wave where people enjoy strolls in the cool sea breeze, horse riding, sun bathing, and watching the sunset. Veraval beach is another beach that gives a panoramic view to the Arabian Sea and is also a major sea port throughout history. The sunset point is where the tourists and locals flock to, watching the sun hide behind the Arabian Sea. If you venture a little outside Somnath, Chorwad a coastal village sends some scenic views of the sea, white sand interspersed with rocks which can be enjoyed on a boat ride on the waves.
Somnath is also a wonderful destination considering its close proximity and ease of connectivity to other parts of Gujarat. You will not get bored of this quaint little town as you can make short trips to Junagadh, Bhavnagar, Porbandar, and Dwarka from Somnath either through affordable public transport or by cruising down the well-maintained wide roads. This makes Somnath a wholesome destination that enriches you with its natural beauty, its rich history, its warm people, its vibrant handloom and handicraft and unique mix of modernity and tradition that is preserved with such gusto.
About Somnath
In the coastal city of Veraval, in the State of Gujarat lies the Somnath Temple which has a tumultuous history of invasions and pillaging, but stands tall today, reconstructed in the Chalukya Style of Hindu Temple architecture in 1951. Somnath temple is believed to be the first among the 12 Jyotirlingas of Lord Shiva, and thus holds deep religious reverence amongst Hindus and is a popular site for pilgrimage. It is set with the background of the robust Somnath beach making it both a picturesque and profoundly spiritual place. The city of Somnath is bejeweled with many other temples, Buddhist Caves, and Beaches, making it a perfect destination for people who enjoy history, culture, spirituality and natural beauty. Somnath is a great place to visit with your friends and family, but owing to its safe, serene environment, solo travelers, women travelers can confidently traverse through the city.
Summer and monsoon are the prominent seasons of this place, perfect for those who enjoy tropical climates. The summers in Somnath last from March to June and are very hot and harsh; monsoon begins from July and last until September and are marked with heavy rain and strong winds, owing to its proximity to the Arabian Sea. The best time to visit Somnath is in the winters starting from October up until March, when the weather is cool and breezy, making it comfortable to enjoy the sites and beaches. Architectural marvels adorn Somnath, the Junagadh Gate - an ancient triple gate, ushers you into Junagadh from the town of Veraval. Veraval is a historical fortified port town of the former royal family of Junagadh, which continues to retains its royal charm. At a short distance is Chorwad a captivating beach village where one can enjoy a boat ride and appreciate the panoramic view of the rocky shores and watch the sun kissed waved hit the shores.
Festivals are celebrated with great gusto and vigor and some of the important festivals of Somnath are Mahashivratri, Kartik Poornima, Holi, Diwali, and Navratri. Discovering Somnath through its festivals is an exquisite way to live through its intense religious-cultural environment, a great way to mingle and interact with locals and enjoy an authentic experience of the place. Shopping is another way to explore the vibrant art, craft, handicraft and textiles of Somnath. Handmade hangings, quilts, tapestry, animal trappings with traditional applique, embroidery and beadwork make shopping an irresistible and extremely satisfying activity. Somnath also provides a great collection of memorabilia and souvenirs to take back home to remind oneself of this quaint temple town.
Somnath is one of the major tourist attractions of Gujarat and is hence well connected by road, trains, and air travel. Somnath is about 400km from Ahmedabad but connected by well-maintained roads ensuring a smooth drive; it is closer from Junagadh, Bhavnagar and Porbandar and well connected with several bus routes. Veraval is the nearest railway station which is only about 7km away from Somnath which can be reached by hiring a car, auto, or taking a bus from the railway station. The nearest airport form Somnath is Keshod about 55 km away, well connected with cheap and frequent public transport for your avail.
Holiday Packages
Explore the one-of-a-kind trip around the beautiful temple town of Veraval where Somnath Mandir stands tall. Pay your respects at sacred sites of Dwarka, Somnath and Porbandar, enjoy the captivating oceanic beauty that follows you in all these places, stroll on the serene beaches that spread out along the coast, go boating or horse-riding on the beach (or both!), watch the sun go down, learn about this history of these ancient towns, get galvanized by the unique handmade art that bejewels its people, houses and markets and treat yourself to a taste palette unique to India and a paradise for vegetarians!
Things to Do
Of course, when in Somnath, visit the Somnath temple, take a stroll or a horse ride on the Somnath beach, enjoy the sunset at the sunset point beach, visit the Pandav caves, cross the Junagadh gate, take a short trip to Chorwad, enjoy the ancient ports that are revamped and still in function today at Veraval beach, shop till you drop in the riot of colors that make the Somnath market- buy local, traditional handloom and handicraft, ride a boat and take a dip in the Arabian sea, gorge on some delicious, affordable vegetarian and non-vegetarian Gujarati food. There are plenty of activities to keep you busy all day long in Somnath.