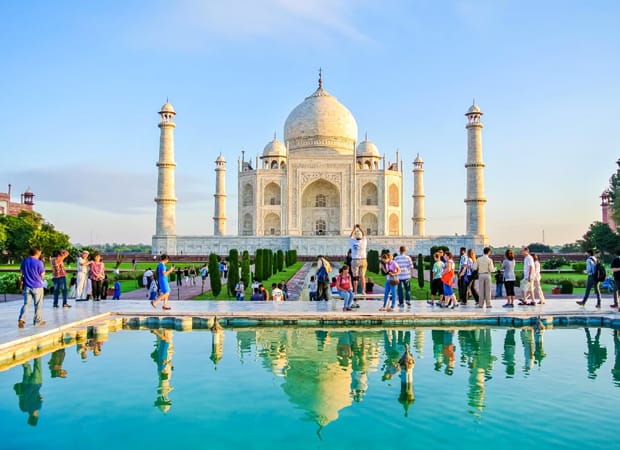 Uttar Pradesh Travel Guide
| | |
| --- | --- |
| Capital: | Lucknow |
| Population: | 199,812,341 |
| Religion: | Hinduism 79.73 % | Islam 19.26 % | Sikhism 0.32 % | Christianity 0.18 % | Jainism 0.11 % | Buddhism 0.10 % |
| Area: | 243,290 Km2 |
| Language: | Hindi, Urdu, Punjabi, Bhojpuri and Bengali |
---
Weather:

33° C - 10° C
Ideal Duration: 2-3 Days
Best Time: Oct-Mar
Nearest Airport: Lucknow
Gracing the northern end of the Indian landscape is the extraordinary state of Uttar Pradesh. The glorious attractions and the rich cultural heritage of UP, over a period of time, has attracted a massive crowd of travelers from all over the world. But what makes UP so special? This list can go on and on, from being home to the 7th wonder of the world – Taj Mahal, the place where Lord Krishna himself was born and spent a majority part in Mathura / Vrindavan of his life and the iconic architectural masterpiece of Fatehpur Sikri to being the hub for indulging in colorful festivals like Barsana Holi or getting in touch with the wilderness in Etowah lion safari or the Chambal Sanctuary.
Uttar Pradesh tourism has now deemed the position for being a thriving holiday destination for not just domestic but international travelers and explorers as well. From the moment you step in you will be overcome by an overwhelming sense of being taken back to the golden era of history. The remaining medieval building scattered all over this state blends in perfect harmony with the ever-changing society. A typical Uttar Pradesh travel guide will enable you to get the best taste of this incredible state.
The heritage riches in this state are numerous which gets even better with the presence of delicious food which UP is famous for. It is a heaven for food lovers and even if you are not an avid foodie you will definitely fall in love with the variety and delicious meals prepared using traditional methods and masalas that cannot be found or replicated anywhere else in the world.
People spend days here going on street food walks in places like Lucknow, Agar, Varanasi and much more.
Some of the must-visit places of tourist interest in UP include places like the spiritual center of the world, Varanasi and Allahabad to the heritage centers of Aligarh and Sarnath and much more. What makes this state even more spiritual and interesting especially for religious seekers is the fact that 2 of the most prominent rivers of Ganga and Yamuna converge here creating a wonderfully positive aura as well. The packages that offer you the opportunity to explore this state in a much better way includes Kashi Pilgrimage Tour, golden triangle tour with Ranthambore, heritage arc tour of Varanasi, Lucknow and Agar, Holi tour in Mathura, etc.
There are several opportunities for one to completely immerse themselves into the rich cultural heritage of UP. Every aspect of this state makes sure that you have the time of your life and take away with you some of the most cherishable memories for a lifetime. Be it strolling along the Ghats of Ganga and Yamuna or exploring the wonderful wilderness of this incredible state or even just spending your days gorging on some delicious food and much more. Every day you spend or anywhere you go you will be meeting warm welcoming people and have a wonderful experience in all.
About Uttar Pradesh
Uttar Pradesh is probably one of the most diverse and colorful states of India. This multi-ethnic state has been serving as a home to a plethora of tribes from across the nation. Due to its varied topography, rich heritage, vibrant culture and fun-filled festivals it has managed to attract a huge crowd of tourists. Be it attending the Kumbh Mela on the banks of the holy Ganga River which is also the most popular and largest gathering of people or exploring the Buddhist pilgrimage centers of Bodh Gaya, Sarnath, Kushinagar, etc. the state has a personality of its own.
Being the most populous and the 4th largest state of India UP is sure a treat for travelers and should be on their bucket list. Displaying a mosaic of activities and experiences this place leaves you spellbound by the time you have to leave. A perfect destination for spending quality time with family and loved ones while also simultaneously getting to know more about your home country it is a blissful experience. Over years UP has successfully emerged as one of the must a visit tourist destination in India while also blending perfectly with the bygone era through its historical structures, arts, handicrafts and especially food.
Primarily Uttar Pradesh represents 2 things that describe India in the best possible manner, cuisines, and culture.
Even king Ashok was enamored by the sheer spiritually activated vibe that can be sensed here. This is clear with the presence of Ashokan edicts and writings which even till this date be seen. Uttar Pradesh is known worldwide for its Buddhist spiritual centers, monasteries and pious shrines which is visited by Buddhists and seekers from all over the world. Some famous temples that can be visited in UP are Ram / Krishna Janmabhoomi Temple, Kashi Vishwanath Temple, Banke Bihari Temple, Sarnath Temple, Dhamek Stupa, Chaukhandi Stupa, etc.
UP has it all, from the 7th wonder of the world Taj Mahal to iconic Hindu pilgrimage centers for every devotee and being crisscrossed by the holiest of the rivers of India like Ganga and Yamuna. If you wish to see the true and real colors of India then this is it. One can spend days and years here without getting bored any day. The historical account of UP is ancient and can be dated back to eons ago when it was believed that the earth was inhabited by gods and goddesses.
All this history, mythological accounts clearly showcases the fact that the foundation of UP was built on very strong and sure grounds making it one of the oldest and richest parts of Indian subcontinent.
Holiday Packages
Uttar Pradesh is one of the most whimsical, historically rich and religiously significant destinations in India. Displaying the true colors of India here are the various holiday packages depending on your budget. Visit the landmark places including visit to Taj Mahal, Mathura / Vrindavan, Varanasi, Allahabad, Bodh Gaya and many more. Each package is built keeping in mind the needs and requirement of very client so that you get to experience the best of India. These budget packages enable you to cater memories of a lifetime with your family, friends and loved ones. Check out these Packages for Uttar Pradesh and book the one you like best while leaving the rest to us!
Things to Do
Uttar Pradesh is probably one of the most interesting places to visit in India. With a plethora of activities and things to do, this place trumps for being a hub spot for various activities. One cannot get bored for even a single day here since there is no dearth of things to do that will keep you busy during your vacation days. Here is a list of all the interesting, religious and spiritual experiences you can have here ranging from religious excursions to wildlife explorations.