Everything about the colorful state of Uttar Pradesh is unique and mesmerizing. From the delicious food varieties to the age-old heritage this place offers you a plethora of options to explore. The people here are very deeply rooted and attached to their centuries-old background which makes them very interesting. A traveler can experience one of a kind traditions and beliefs through their art, handicrafts, cuisines, and culture. Another way of immersing yourself completely into the real UP vibe is by observing and maybe even dressing up like the locals there. Being home to a multi-ethnic population, if you observe closely you will see that the clothing of the residents here defines who they truly are. Here are some of the commonly worn traditional dresses of Uttar Pradesh:
Traditional Women Clothing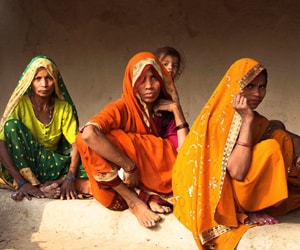 The clothing of women in UP differs from city and villages. There are many developed towns within the state where women go to work and wear formal wear. Casually women in towns wear jeans, trousers, t-shirts, shirts, dresses, and stylish tops and tunics. Women in villages choose to wear much more traditional and unfashionable clothes. Here is a list of clothing worn by the women of UP both in cities and village areas:
Salwaar Kameez: This is a piece of clothing which is common to the women population of India and is not only restricted to this state. Cotton Salwar Kameez is a great clothing option for the women of UP especially during the scorching and biting heat of June – august. The Chikankari styles of kurtas are world popular and are very commonly found in Lucknow but it is also famous for being expensive.
Sarees: It is another one of the commonly worn pieces of women's clothing in UP and in India. A majority of the population wear Sarees not just traditionally or casually but also formally. There are Sarees found in various patterns, styles and designs and UP is especially famous for the heavy work Saree of Banares known as Banarasi Sarees. Women in villages also drape Sarees as a part of their everyday life. Elaborate Sarees are worn by guests as well as brides during wedding occasions.
Ghagra Choli: A traditional Ghagra Choli is worn by locals during some special occasions like festivals or some Pujas. The Ghagra Choli consists of an elaborately designed and decorated long skirt that goes with a beautiful and stylish blouse and a Dupatta which is a simple piece of cloth that is worn around the neck. Dupattas are also found in Salwar Kameez set. A traditional Ghagra Choli worn by the women in UP villages are brightly colored with various patterns.
Accessories: The way a UP woman accessory herself looks like a work of art. It consists of main earrings, rings, toe rings, and nose pins/rings along with Bindis. Married women adorn themselves with Sindoor, Bindi, a Mangalsutra and bangles. During weddings people wear gold and silver jewellery which makes for their most prized possessions.
Traditional Men Clothing
Just as it is in the case of women clothing in UP, the way men dress up in the village, as well as cities and towns, is very different. Since this state serves as the headquarters for many different industries local and multinational, the men here wear formal clothing at offices and workplaces as well as traditional clothes during some event, festival or occasions and in village areas as well. People mainly like to wear shirts, trousers, jeans, and t-shirts in different combinations. Here is everything you need to know about:
Kurta Pajama: This is probably one of the most commonly worn clothing for men which mainly are made out of cotton clothing material. It is readily available in various different colors and styles and even patterns. Men choose to wear them as daily wear or traditional wear as well. An elaborate style of designer Kurta with Pajama is worn especially during some grand occasion like marriage event or some festival. It is the best choice to wear since it provides with amazing comfort during the scorching summer heat months.
Sherwani: This is one of the most extra and stylish styles of clothing which is worn by grooms during wedding days or some festival or the other. A Sherwani consists of a finely tailored Kurta with elaborate designs adorned with shimmering designs. A Churidar Pajama is also worn underneath it accompanied by a Dupatta which matches the pattern and color of the Sherwani's Kurta and pajama. These sets are available in varied prices and ranges showing differences in patterns, materials and the latest styles.
Dhoti Kurta: As you will venture deeper into the village regions of UP you will encounter men wearing primarily cotton dhotis with a cotton simple Kurta. This is the perfect thing to wear if you have a shoestring budget and a great way to beat the heat. Dhoti Kurta is a part of the daily and casual wear among the locals of villages since it is also very economical. Both of these pieces of clothing can be bought from the market or even be made from cloth.
Accessories: People in rural areas or the traditional settings choose to include a Topi or a Pagdi. This serves multiple purposes of not just being an accessory but also covers the head from the scorching heat while working outdoors or in the fields. Other than this, married men wear different traditional accessories as a part of their traditions and beliefs.
The traditional clothing worn by the local men and women of UP is more or less similar to the rest of India and clashes more with the clothing wear of the northern Indian style of clothing. Since they experience similar climatic conditions and weather changes which enables them to wear almost the same clothing as in the states of like Rajasthan, Bihar, Chhattisgarh, parts of Madhya Pradesh, etc.