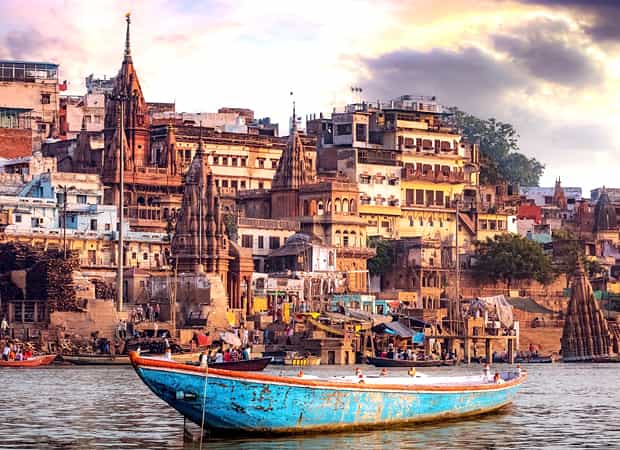 Varanasi Travel Guide
| | |
| --- | --- |
| Location: | Uttar Pradesh, India |
| Population: | 1,201,815 |
| Religion: | Hinduism 70.11 % | Islam 28.82 % | Christianity 0.34 % | Sikhism 0.22 % | Jainism 0.12 % | Buddhism 0.04 % |
| Area: | 112.10 Km2 (43.28 sq mi) |
| Language: | Hindi, Urdu and Bhojpuri |
---
Weather:

34° C - 10° C
Ideal Duration: 2-3 Days
Best Time: Nov-Feb
Nearest Airport: Varanasi
Varanasi, the oldest city in the world remains thronged with people, tourists as well as locals throughout the year. The city is bestowed with numerous ancient temples, astonishing ghats, ashrams, maths, and other religious sites where all the sites hold immense religious beliefs, and hence, is crowded with huge influx of devotees. Those who are seeking for perfectly peaceful surrounding and wish to spend some spiritual moments shall plan their holiday in Varanasi.
In simple words, we can conclude that the city of Banaras is well reckoned and famed for several Hindu temples and on your trip to Varanasi you can find temples in almost every street, however, the most popular one is Kashi Vishwanath Temple. The city is believed to have been established by Lord Shiva himself almost 5000 years ago and the significance of the place is mentioned in both Ramayana and Mahabharata.
This ancient city is considered to be an auspicious place to witness the intimate rituals of life and death and the place is believed to grant moksha or liberation from the cycle of life. Spiritually blessed, the heart of the city pulsates around the Banaras Ghats- a series of giant staircase leading to the River Ganges. Early morning, the devotees walk down the stairs to wash away their sins by taking dip into the holy river and in the evening, they return for fire-fueled prayer ceremonies.
If we go through the history or the legend associated with this city then it is clearly evident that no accurate map has ever been drawn of the twisting alleys of Varanasi complex web.
Planning a week-long Varanasi trip happens to be a great idea to throw all your sorrows and worries away by experiencing some of the best sightseeing of your life.
Benaras never disheartens any of the guests whether he/she is a religious seeker or a foodie. Foods in Varanasi offered here are plain, simple, and traditional and here you can savor home-made food served at roof-top restaurants. Foreign travelers prefer enjoying their meals at the restaurants located closer to the divine ghats. If you are a foodie and looking for a place to binge on the authentic Banaras food then head towards the main market area.
The city is also very much popular for its delectable confectionaries and Rabri Malai Balai is the most loved dessert, hence, one should not leave the city without treating your taste buds with street foods like Pani Puri and Aloo Chat. But one thing that one must not miss out in the city is the famous Benarasi Paan (mixture of tobacco, Areca nut, betel nut leaves, and lime).
The popular Paan has become even more popular when featured in several Bollywood movies and songs. Bhaang, a potent powdered form of Cannabis often mixed into Lassi which is also offered to Lord Shiva as a Prasad. Discover the erstwhile grandeur and the spiritual activities of the city. What else to know more about Varanasi tourism? Plan a Varanasi city tour by checking out a well narrated Varanasi travel guide and unfold the mystical resplendence of this oldest continually inhabited city.
About Varanasi
Varanasi or Benaras is one of the most ancient cities living in the world and it is believed that the city is older than history, tradition, and even older than legend. The spiritual land of Varanasi or Kashi has been the ultimate religious site for Hindus for ages. Hindus believe that one who visits this ancient city attains salvation and liberation from the cycle of birth and death.
River Ganges flowing gracefully takes Varanasi tourism a notch higher as this holiest river of the country happens to hold the power to cleanse away the sins of the mortals. This spiritual city happens to be a symbol of knowledge, culture, philosophy, Hindu renaissance, devotion to gods, and Indian arts and crafts have flourished here for many centuries.
Varanasi is believed to be the birthplace of the twenty-third Tirthankar, Parsvanath and this makes it a famous religious site of Jains and both Shaivism and Jainism have co-existed in the city harmoniously. This divine city in Uttar Pradesh is beautifully associated with the promotion of mysticism, spiritualism, yoga, Sanskrit, and Hindi language and had honored several authors like the very famous poets Tulsi Das and Prem Chand.
Varanasi also called as the cultural capital of India has provided the right platform for the cultural activities to flourish and several exponents of music and dance have come from this city only. If you are exploring any time sooner then, apart from spirituality and divinity you get to enjoy boat riding at River Ganges add more fun and charm to your travel experience.
The wonderful and spellbinding experience of temples and practices of Hindu rituals would harmonize your soul and heart. One must not miss out on participating in the evening Ganga Arti ceremony that offers you the essence of aromatic surroundings and the soul-soothing spiritual chants filling positivity in you. Your spiritual experience in the city gets magnified when you visit the Dasaswamedh Ghat and witness the ceremonies organized there.
Sarnath, one of the most renowned places where Lord Buddha illustrated Dharma is one of the major landmarks of Varanasi that attracts a good number of travelers from all around the world. The brilliance and the visual of the architecture of Ashoka Pillar would be an unmatched treat to your eyes. Varanasi serves its guests with several mouth-watering cuisines and one must not miss out binging on cool lassi and hot chaat.
The magical land of Varanasi doesn't only attract Indian travelers but also attracts huge influx of foreign tourists and this number is increasing day by day. The city is renowned for its silver and gold thread work, carpet waving, perfumes, wooden toys, glass bangles, carpet weaving, artistic brass ware, and a variety of handicrafts.
However, the destination is crowded with tourists throughout the year yet Ganga Mahotsav, a five-day festival sees huge number of tourists as this happens to be the star attraction of Varanasi. Bharat Mata Mandir, Chinese Temple, Nepali Temple, Alamgir Mosque, St. Mary's Church, Banaras Hindu University, Godowlia Market, The Banaras Silk Emporium, etc. are some of the major attractions of the place that must be added in your bucket list of travel destinations.
Holiday Packages
Decked with holy ghats and temples, the pious land of Varanasi ensures an incredible holiday experience to all the travelers. It is believed that much of India's inclusive ethos stems from this spiritual city only and visiting here feels like to touch the very core of Indian Spiritual thought. Do not miss out the opportunity to witness the scenic boat ride, binge on delectable delicacies, spiritual chants at the ghats, and many more activities.
Relish the best of this divine city with us at Namaste India Trip as we craft the customized and affordable Varanasi holiday packages for you. Discover the irresistible sightseeing spots with the variety of experiential trips and the activities included in our well designed Varanasi tour packages.
Things to Do
Varanasi or Banaras or Kashi, call it what you want. This spiritual city is a gorgeous north Indian city established in Uttar Pradesh and dates back to the 11th century BC. Varanasi is undoubtedly home to numerous temples and other religious sites and Kashi Vishwanath Temple is the star attraction of the city. This oldest continually inhabited city is believed to be one of the liveliest ones all across the globe.
Sign yourself up to explore the ancient temples, take bath in holy Ganges, Watch Evening Aarti, and many more enlightening experiences in Varanasi for a wonderful weekend trip.