Browse our beautifully tailored Koh Samui Tour Package with Fantastic Full Moon Party and embark on a wonderful vacation with us. This 4 nights and 5 days long tour package has been designed to explore the wonders of the second largest island in Thailand which is studded with thick mountainous forests, coconut groves, and palm-fringed beaches. Reckoned as a true vacationer's paradise, Koh Samui boasts a cluster of attractions and activities where one can indulge in to make it a lifelong vacation experience.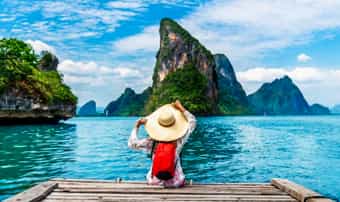 | | |
| --- | --- |
| Tour Duration: | 04 Nights / 05 Days |
| Destination: | Koh Samui - Koh Phangan |
| Tour Price: | On Request /- |
Day 01: Departure from India and arrival in Koh Samui
On your arrival at Koh Samui Airport, you will receive a warm welcome from our representative who will then transfer you to the pre-booked hotel. Complete the check-in formalities at the hotel and then unwind yourself in the cozy hotel room. There is no proper schedule for the day and you are free to spend your leisure time the way you wish to. The best thing you can do today is to indulge in the water sport activities available here like water-skiing, kite-boarding, windsurfing, and various others. Also, if you want to witness a huge rush then go the destinations where one can enjoy scuba diving and Snorkeling.
You can also lie down on the Koh Samui Beach and can indulge in some soothing moments with your life.
Day 02: Koh Samui – A Lovely Leisure Day
Start your day with a hearty breakfast at the hotel and then plan your day the way you wish to do like you can go for exploring the alluring destinations in the city. Spend some time in exploring the iconic attractions of the country including Namuang Safari Park, and Namuang Waterfall. Enjoy the elephant ride on your visit to the popular national park adorned with thick dense forests and coconut plantations. If you are looking to spend some relaxing moments in the country then make your visit to Namuang Waterfalls. Return to the hotel for dinner which is then followed by a relaxing overnight stay. Elephant Show, Jeep Ride, Namuang Safari Park Ride, and elephant ride are the other things to enjoy here (based on additional cost).
Day 03: Koh Phangan – An Unforgettable Full Moon Party
What else could be better than to start your day with a scrumptious morning meal? You can also make a sightseeing tour in the city where you can attain some rejoicing and enriching moments. Head towards some of the most important and appealing places in Koh Samui including Ang Thong National Marine Park, Wat Plai Laem, Big Buddha, and Full Moon Party Place. On your visit to Ang Thong National Park, you will get the chance to explore limestone mountains, glimmering beaches, hidden coves, pristine lakes, thick dense forests, and gorgeous waterfalls. Big Buddha, the major landmark of the city is a place which houses the colossal Golden statue of Lord Buddha. It is encircled by several other small temples housing Buddha statues.
Later in the evening, when it gets dark you will be transferred to Koh Phangan to participate in the Full Moon Party. It is believed that Koh Phangan witnesses the most beautiful phase of moonshine which makes the white sandy beach glistening with yellow light. This is quite difficult to explain this view in words. As time passes by the beach gets adorned with colorful lights and gets transformed into a DJ floor. Commercial dance, drum beats, playing of techno, bass, and trance add more charm to this night.
You must be tired in last night party so you can start your day a little late. Gorge upon the nutritious breakfast served to you and then relax for a few hours in the hotel room. Later on, come out of the hotel to explore other landmarks of the city including Secret Buddha Garden, Mummy Monk at Wat Khunaram, and then take out some time for shopping. You can buy designer bags, traditional Thai Silks, copy watches, arts and crafts materials, and many more things. Also, if you are in any part of Thailand and have not gone for Spa treatment then believe me your trip is incomplete. So, go for Spa therapy which will make you feel relaxed and rejoiced.
Day 05: Departure to India
Treat your taste buds with the mouth-watering Thai cuisines and then either relax at the hotel or can explore the nearby sightseeing places before leaving for the airport. After this, return to the hotel to complete the check-out formalities and then you will be escorted to the airport from where you will board the flight for your onward journey towards home.
Trip Highlights
Enjoy water sport activities on the Koh Samui Island.
Participate in the Full Moon Party at Koh Phangan.
Visit Namuang Safari Park and enjoy elephant rides and also visit the glimmering waterfalls.
Enjoy Adventure sport activities in Ang Thong National Marine Park.