Gujarat is a mysterious and enthralling land which is home to lots of devotional temples and centers of spiritual learning like Dakor, Dwarka, Ambaji, Shankheshwar, Palitana, Mahudi, Somnath, Gandhinagar, Modhera, Kabirvadi, Pavagadh, Sun Temple. Akshardham, Jain Temple Ashapura Mataji Madh, Junagadh Buddhist Cave Groups, Swaminarayan Temple, Tulsi Shyam, Lojpur, Bahucharaji, Ahmedabad, Kutch etc. these places commands a lot of domestic and international tourist attraction and offer a wealth of experiences to the discerning traveler.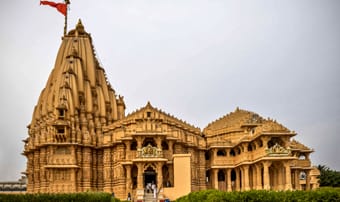 | | |
| --- | --- |
| Tour Duration: | 03 Nights / 04 Days |
| Destination: | Rajkot - Jamnagar - Dwarka - Somnath |
| Tour Price: | On Request/- |
Day 01: Arrival at Ahmedabad/Jamnagar
On your arrival at Ahmadabad railway station or airport, you will be greeted by representative of Namaste India Trip who will also arrange your transfer to Jamnagar. On arrival, you will be escorted on a visit to the famous Bala Hanuman temple where Jai Sri Ram chanting is heard continuously. Dinner and night stay at the chosen hotel is arranged.
Day 02: Jamnagar to Dwarka (travel time 5 hours)
After breakfast next day morning you will be driven to Dwarka the land of Krishna. After rest at the hotel go on a visit to Jagat mandir, Rukmini temple and Dwarkadhish temple. Majestic flights of stairs line the sides of the temple and extend up to the river Gomti. The temple is built of beautiful limestone and has an inner sanctum, vestibule and a rectangular hall.
Day 03: Dwarka to Porbandar to Somnath (Travel time 5 hours)
The next morning after breakfast it is time to drive to Somnath via many sightseeing halts. The first stop is Tara Mandir Planetarium where celestial bodies are shown to be in constant motion with the help of scientific projection. The next stop is Kirti Mandir which is the main attraction of Porbandar and is believed to be the birthplace of Krishna's friend Sudama. The final stop is Somnath temple which is believed to be one of the 12 principal Jyotirlingas in Hinduism.
Day 04: Somnath to Rajkot (Travel Time 5 hours)
Return journey with lovely memories
After the morning drive to Rajkot, it is time to visit the Uparkot Fort which is the oldest fort of Junagadh and the Uparkot upper Citadel which is at the heart of the city. There are two canons named Neelam and Manek nearby which were forged in Cairo and shipped in by the Turks who had come in for defending Diu against the Portuguese.
Entry can be gained inside Uparkot between 7 am to 7 pm daily and there are places like Jami Masjid, Navghan Kuvo, Adi Kadi Vav and Buddhist Caves which are a must visit in Uparkot. The Ashok Rock Edict with its ancient Pali inscriptions about secularism, unity and kindness is the also a major attraction.
The next stop is the Junagadh Museum which is open between 9 am to 12 pm and 3 pm to 6 pm every day and houses ancient stone and bone artifacts. There are 9th century stone carvings, wood carvings, silverwork, textiles, glass artistry and other creations on display. Afterward, you will be driven to Rajkot where the representative of Namaste India trip will transfer you to airport or station for return journey.