Gujarat, the westernmost part of India, has unique attractions. On the one hand you have a long coastline that is home to the largest Marine Park in the country, the wild and desolate Rann of Kutch harbouring the wild ass, princely cities of Jamnagar and Junagadh, dense forests of Dangs and the sanctuary at Velavadar where blackbucks can be spotted across the grasslands. Gujarat is also home to the last of the Asiatic Lions to be found in the jungles of the Gir. Visit Gujarat and you are in a different land, culturally and from the nature perspective too.
A typical 13 days 12 nights Gujarat tour takes you to the choicest spots in an itinerary that would go like this: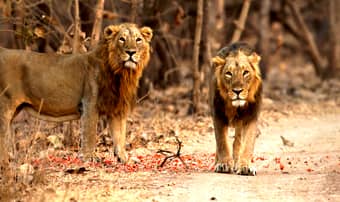 | | |
| --- | --- |
| Tour Duration: | 12 Nights / 13 Days |
| Destination: | Ahmedabad - Nal Sarovar - Velavadar |
| Tour Price: | On Request/- |
Velavadar National Park Arrive in Ahmedabad, one time capital of Gujarat and better known as the Manchester of India though majority of the textile mills have long since shut down. You receive a warm welcome from our Namaste India Trip representative who escorts you to your hotel to let you freshen up after which we leave for Gandhinagar, about 30 km away to visit the Indroda Nature Park, a charming little spot. After that you return to the hotel and then visit Kankaria Lake in the evening. Kankaria Lake was built by Sultan Qutbuddin in the 15th century and recently received a facelift making it an ideal recreation spot.
Breakfast on typical Ahmedabad "farsan" or snacks made of Besan and set out quite early to reach Nal Sarovar, a natural lake about 85 Km away that takes 3 hours to cover. Nal Sarovar is home to thousands of birds with winter being the time when you can see flamingoes and hundreds of other birds in a riot of color. Return to Ahmedabad in the morning and set out for Sarkhej Roza, a grand mausoleum honoring Shaikh Ahmed Khattu Ganj Baksh, a Sufi saint. The grand complex built by Sultan Ahmed Shah encompasses a mosque, a square water tank surrounded by gardens and pavilions. You will find here the tomb of the Sultan and also that of Sultan Mahmud Begada, who completed the Roza that was later on expanded by Emperor Akbar. After that you move on to Gandhi Ashram and then drive onwards to Adalaj stepwell, one of the many to be found all over Gujarat. Stepwells were used as resting places during journeys and the underground structure provided relief from heat. Then you return to your hotel to relax. At night set out for Manekchowk, a commercial area known for its stock market, gold and silver market, vegetable market and utensils but at night it comes alive with food stalls. Enjoy Bhel puri before going to sleep.
Early next morning, after a hearty breakfast, we go on to Velavadar, a four-hour drive to cover the 150 km distance and reach the natural park here. On the way you stop at Lothal, once a port city of the Indus Valley Civilization and admire the artifacts in the Museum. You reach Velavadar in the evening and check into your hotel.
Set out in the morning for a safari in the natural park here, a stretch of flat grasslands home to the famous Blackbucks and Nilgais. Whereas the blackbucks are small, fast and compact, the Nilgais are the largest in the antelope family. You will also come across Wolves, hyenas and hundreds of birds populating this stretch. The sanctuary was developed by an erstwhile ruler of Bhavnagar district who must be thanked for his efforts at conservation which has resulted in a protected reserve for the blackbuck, a much-hunted animal, both by humans and animals. Return to your room for rest.
Day 05: Gir National Park
A typical Kathiawadi breakfast is served and then you set out for Sasan Gir, the last bastion of the Asiatic Lion. Check into a resort at the edge of the forest and then go on to visit Kamleshwar Dam where crocodiles are bred after which you have leisurely moments to explore and go bird watching. Stay overnight in the resort.
Day 06: Gir National Park
Delicious breakfast over your head for the Gir National Park in a jeep safari. With luck you will come across lions, some of them lazily crossing the road. After that you go on to Devalia Park, take in the waterfalls and then on to Nalsarovar Lake, a freshwater body home to thousands of birds both local and migratory.
Check out of your hotel after breakfast and board an air-conditioned coach that will take you on a 220 km drive lasting five hours to reach Jamnagar. You reach in the afternoon and check into your hotel. Freshen up and set out to the Lakhota lake for some bird watching. You will see a number of aquatic birds here and return to your hotel for rest.
Day 08: Jamnagar Khijadiya Bird Sanctuary
Set out after breakfast for the Khijadia Bird Sanctuary, part of the largest Marine National Park in India stretching along the coast of Jamnagar to the Gulf of Kutchch. Khijadia is a collection of marshes, creeks, salt pans, mudflats, mangroves and shallow water bodies. The unique combination makes it home to a variety of land animals as well as marine and freshwater birds. You will find black-winged stilts, pheasant tailed jacanas and purple moorhens coexisting peacefully. The Marine Park comprises of many untouched islands, some of them so isolated that you can only take a trip in a boat and return the same day. Besides permission is required to visit the islands known for their coral reefs and rich marine life. Anyway, a trip along the shoreline gives you a good idea of what it is like here. Return to your hotel and explore the bazaars of Jamnagar, home of Maharaja Ranjit Sinhji, a cricketer and a royal price. You could also visit the new and old palaces in this city once known as Nawanagar and the seat of power of the Rawal dynasty. Sampling local dishes is a delightful experience.
Enjoy a Kathiawadi breakfast and board the coach for the 320 km, 8-hour drive to Nakhatrana in the desert of Kutch. Book into your room and then set out for Naliya Grasslands to view life in the desert. You will see Chinkara, spiny-tailed lizard and wild animals typical to this region. After lunch we go on to Narayan Sarovar and then return to the resort.
A beautiful day dawns in this arid region and breakfast a waits. Afterward you take a visit to the White Desert and the Banni grasslands where you will come across desert cats, foxes and wolves. Another different experience is shopping for handicrafts in the Banni village. Buy a Kutchi mirror embroidered dress that itself weighs a couple of kilos, quite unlike any other embroidered dress you will come across. Return to your resort for rest. You could try walking in the moonlight in the cool air.
Today you set out early after breakfast for Dasada in the Little Rann of Kutch, a distance of 190 km that takes 4 hours to cover. This is wild desert, nature at its most raw. Still, the desert teems with life the most noticeable of which is the appearance of wild asses in herds cantering across the sands. You get to stay in a nice resort surrounded by dunes with the sky as your canopy.
Day 12: Dasada Excursions
The morning starts with a safari to view the Asiatic Wild Ass in its natural surroundings. The safari gets you glimpses of buzzards, kestrels, harriers, desert fox and owls. An exhilarating tour, a little bit tiring but memorable nonetheless, ends with return to the resort.
Today it is return to Ahmedabad from where this magnificent tour of Gujarat started. You arrive late in the evening. The tour ends and you can return home with rich memories of the culture and places of Gujarat.