Mussoorie Tourism – Travel Guide to Mussoorie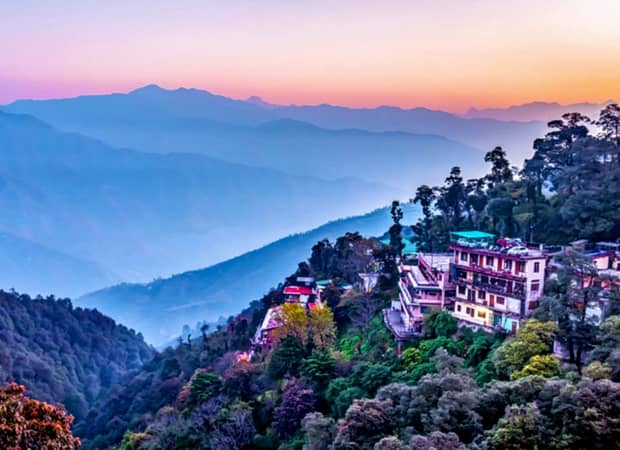 Mussoorie Travel Guide
| | |
| --- | --- |
| Location: | Uttarakhand, India |
| Population: | 30,118 |
| Religion: | Hinduism 80.67 % | Islam 7.7 % | Christianity 3.77 % | Sikhism 1.32 % | Buddhism 5.9 % | Jainism 0.32 % |
| Elevation: | 1,880 m (6,170 ft) |
| Language: | Hindi, Garhwali and English |
---
Weather:

19° C - 10° C
Ideal Duration: 2-3 Days
Best Time: Apr-Jun
Nearest Airport: Dehradun
The hill station of Mussoorie is located in the district of Dehradun on the Garhwal Himalayan ranges of Devbhoomi Uttarakhand. Located at a comfortable distance from many big towns like Delhi, Punjab, and Haryana, and UP, this queen of hills has always been the first choice for extended weekend getaways. Ever since the British started pouring in Mussoorie and turned it into their base for recovery, healing, and relaxation, it has turned into one of the most beloved hill stations of India.
Tourism in Mussoorie will take you across the rich landscape, interesting culture, unique heritage, and blessed natural beauty of the Himalayas. Placed at an altitude of about 2,000 Metres above sea level Mussoorie is surrounded by the snowcapped Himalayan ranges, Shivalik hills, and Doon valley. The remnants of the British past are clear as day in this little hill town through the colonial mansions and churches that dot the queen of the hills. Named after a popularly grown shrub called Mansur, this place is associated with numerous folk tales, tales, legends, and myths. Riddled in a vibrant historical past Mussoorie represents the colorful mosaic of its background.
If you are planning a holiday in Mussoorie then this British summer capital has a lot to offer. A typical Mussoorie travel guide will consist of visits to a range of sightseeing destinations in and around the Himalayan hill town. Most of it starts off with a visit to the iconic mall road for a shopping expedition and going on a food trail.
The mall road is also a place where you can buy a lot of gifts and souvenirs for yourself and your loved ones back home. Don't worry about the options and choices because either side of the mall road is lined with vibrant shops and stalls. The ropeway to gun hill will be another experience that is a must-have in Mussoorie. View the world from above on this cable car ride to the highest point in Mussoorie. Other places that you can visit are – Char Dukan, George Everest House, Jharipani Falls, Lal Tibba, Bhatta Waterfall, Jwala Devi Temple, Cloud's end, and Benog Wildlife Sanctuary.
The adjoining hill station of Landour which is located very close to Mussoorie can also be visited on a day trip. Landour was a cantonment area developed for the British soldiers to relax and heal after being injured. Landour at one point was completely flushed with British troops and people because of its scenic beauty and healing environment. Currently, it has turned into a getaway for people on their honeymoon or individuals and tourists looking to escape the gruelling city life and spend some time in peace and nature. Be it adventure activities like camping and trekking or soulful activities like bird watching or just chilling by the waterfall on a picnic, everything you do in Mussoorie has a charm to it. This place is great for a family vacation, solo exploration, peaceful honeymoon, spiritual getaway, and a fun holiday with your group of friends.
About Mussoorie
Named after the shrub called Mansur which was found in abundance in this part of the Himalayas, Mussoorie is a quaint little town which has now turned into a paradise for tourists from all over the world. Rightfully dubbed as the queen of hills, this summer capital of the British is a fantastic example of an ancient, humble, rustic town which has been through a very vibrant historical past. Gracing the lap of the Garhwal Himalayas Mussoorie is a much preferred destination for weekend getaways for people living in nearby places. Located at a comfortable elevation of just a bit over 2,000 Metres above sea level, the weather here remains perfect almost throughout the year which allows tourists to experience the various faces of Mussoorie.
Nestled on the sides by the snowcapped peaks of the Himalayas, Shiwalik ranges and the Doon valley, Mussoorie is a picture perfect Himalayan hill town that depicts the glory of the hills. Inhabited by various tribes, communities, ethnicities and races of people from Tibetans, Hindus and Muslims to the local forest tribes and the people who have been staying here since centuries Paints Mussoorie in a mosaic of colors, culture and beliefs. Mussoorie along with its adjoining little hill town Landour are the perfect duo to getaway to and hit that refresh button on your life.
Before becoming a hub for hill travel, the gentle green slopes of Mussoorie was a grazing area for the shepherds and cattles of the villagers living beyond Mussoorie.
In 1827 a British captain accompanied with a few others of his generals had climbed up the hill from the Doon valley and came across this ridge that offered scenic views along with a very pleasant climate. This exploration led to the gradual settlement of the British forces and troops along with other authorities in Mussoorie. This foundation for the development of this hill station was laid in this manner.
This captivating natural beauty has ever since attracted people from across the globe looking to experience nature at its best. This 15 km of horseshoe stretch against the stunning backdrop of the mighty and majestic Himalayas, any vantage point in Mussoorie offers absolutely Mesmerising views of these fantastical mythical hill ranges. Mussoorie is home to many popular and extremely famous personalities including the iconic English writer Ruskin bond and Bill Aitken. Other than that ever since the hill town was settled, many notable personalities have visited and continue to own property and mansions in Mussoorie. It seems like once you spend some time here you are bound to fall in love with it.
Visit Mussoorie during the peak season to get some respite from the horrible heat of the plains. The refreshing air, free of pollution and blessed natural beauty, Mussoorie is a blessing for all explorers and all types of travellers. Go boating on the Mussoorie Lake or check out the world from above in the cable car ride to gun hill and offer your prayers to Jwala Devi Mata and so much more! Mussoorie is truly a Pandora Box for every type of traveller.
Holiday Packages
Mussoorie is more than just Kempty Falls and gun hill or mall road, it is a mosaic of various collections of activities that represents its dynamics and vibrant past. Being one of the best choices for hill station getaways there are many packages from where you can pick your choice of packages. Some best-selling holiday packages for Mussoorie include - Mussoorie tour package from Delhi, Haridwar Mussoorie Corbett tour package, 4 days and 3 nights of Mussoorie tour package, Chamba with Dehradun Mussoorie package, enchanting Nainital and Mussoorie tour package and much more!
Things to Do
Mussoorie is a place where there is a lot to do. Every traveller will find something to do every single day. Be it watching the sun set from Cloud's end, setting up a picnic at the Jharipani Waterfall, boating on Mussoorie lake, savor some fantastic views of the valley and surrounding beauty at George Everest home and so much more. Not a day will pass by where you feel bored or find yourself doing nothing. Mussoorie is the perfect definition for a place where spirituality meets adventure that appeals to every group of travelers.