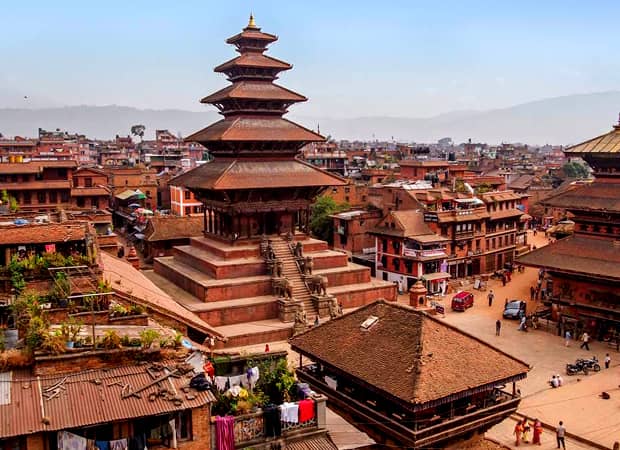 Nepal Travel Guide
| | |
| --- | --- |
| Capital: | Kathmandu |
| Population: | 29,949,980 |
| Religion: | Hinduism 81.3 % | Buddhism 9.0 % | Islam 4.4 % | Kiratism 3.0 % | Christianity 1.4 % |
| Area: | 147,181 Km2 |
| Language: | Nepali, Maithili, Bhojpuri and Newar |
---
Weather:

22° C - 19° C
Ideal Duration: 2-3 Days
Best Time: Apr-May
Nearest Airport: Kathmandu
Nepal has successfully established itself as one of the most preferred destinations for backpackers, travelers, and explorers from all over the world. Home to majestic mountains, scenic lush views, spiritual pilgrimages, and unique culture Nepal is the best option for everyone including solo travelers, honeymoon goers, and people on a family holiday. The clean air and pristine environment which coexists in deep harmony with the locals residing there makes this place a Pandora box of thrill, adventure and a wholesome experience. One can easily say that Nepal is one place where the tourism is thriving in all its glory.
One of the main reasons for Nepal being the hub for tourism is the presence of the world's highest peak in the world i.e. mount Everest which attracts mountaineers, rock climbers and adventure seekers from across the globe who wish to scale this massive peak. The Nepal travel guide includes all the information on this subject. Religion also plays a major role in attracting tourism from different corners of the world. Nepal is home to Hindu temples like Pashupatinath Mandir, Muktinath Dham Mandir which is also a significant part of the pilgrimage for Buddhists as well, along with Lumbini which is the birthplace of Gautam Buddha and a major destination for Buddhist pilgrimage for devotees.
Apart from tourism induced due to religious beliefs or the aspiration of scaling some of the largest and tallest mountains, tourism in Nepal is often seen as a serene and peaceful destination if it is serenity and some time off from the chaotic life you are seeking.
The presence of numerous lakes, forests, exciting wilderness, and colorful wildflowers together creates one of the most awe-inspiring surroundings to spend some quality time with your family, friends, and loved ones. One can take jungle safaris, grow on one of the many trekking and hiking expeditions depending on your skills, go for bird watching and even indulge in water-based activities like kayaking, canoeing, rafting, etc.
In short, there is something for everyone in this land of promises. The diverse geography of the Kathmandu valley, subalpine forested hills, gently rolling mountain slopes, and even the fertile plains everything about Nepal is whimsical and every corner is pleasing to the eyes. The best thing about this incredible place is the fact that the people here are deeply rooted to their heritage and well-preserved culture which can be seen, felt, and experienced right off the bat. To see this each year throngs of tourists make it a point to visit Nepal at least once in their lifetime with over 1 million tourists arriving in Nepal in 2018. The tourism department makes for around 7.9% of the total GDP of the country with the premiere destinations being the charming hamlet of Pokhara, UNESCO world heritage sites of Lumbini, and Sagarmatha National Park (houses Mt. Everest) and the famous Annapurna trekking circuit. Ever since Nepal opened its doors to the westerners in 1951 the tourism here has only seen a steep rise and continues to grow as people make their way here to experience the sheer, untouched and unmatched combination of natural beauty, spirituality and adventure.
About Nepal
The Nepal landscape is surrounded by some of the most charming destinations in the world like Bhutan and China which has resulted in it being one of the most preferred holiday hill destinations for travelers and explorers from across the globe. Home to some of the most astounding snowcapped Himalayan hill ranges and surrounded by pristine natural beauty, Nepal has so much more than what meets the eyes. From being the home for the highest peak in the world Mt. Everest to the delicious local food and humble folks deeply rooted with their age-old traditions and heritage this land of spirituality and beauty will hold your attention every single day that you spend here.
Blessed with a bountiful collection of various biodiversity and landscape types, ranging from lush green thriving hills and vegetative meadows to the cold desert region of barren mustang valley one can explore more than what is expected. Due to this unique blend of different topographies and demographics Nepal is a haven for spiritual seekers and peace lovers as well as caters to adventure and outdoor sports enthusiasts. The climate here supports all kinds of ecosystems which makes coexistence possible on every level. This can be experienced by visiting one of the many interesting wildlife sanctuaries and national parks like, Sagarmatha National Park, Chitwan National Park and Langtang National Park among others.
Another interesting thing about the whole Nepal experience is the fact that the people here are very deeply rooted in their past, culture, and traditions which differs from one part of the country to the next. Religion and traditional duties occupy a prominent place in the life of a regular Nepal citizen. Planning a trip here during the festival months will surely keep you engaged every day and leaves you with a lifetime worth of memories. Festivals of large and small scale nature take place here almost all year long which is celebrated in brotherhood and utmost harmony. Buddhism is largely followed here and people believe in the concept of nonviolence and peace.
These hill regions are inhabited largely by people referred to as Sherpas, Dolpa-pas, Lopas, Manangays, and other such local tribes and groups of sub-tribes who reside in the remote regions as well. All this multi-ethnic and multi-cultural background of Nepal has resulted in some of the most delectable food items representing the beautiful combination of Tibetan and Indian influences which also dramatically changes through the country. All in all, Nepal is a very diverse nation with a dramatic history that has shaped its modern culture while also preserving the rich culture, traditions, and heritage. Nepal is one country which should be on everyone's bucket-list.
Holiday Packages
Nepal is one of the most availed holiday destinations in the world with welcoming visitors, explorers, vacation-in families from all over the world. These holiday packages for Nepal guarantees a memorable experience that will take you through the lush green deep valleys, adventure opportunities, spending time in peace amongst the natural surrounding and ultimate peace. The packages are designed to cater to the needs of all types of travelers and make it available at the best, reasonable rates. Each of these Nepal packages can also be customized according to your liking, desires and attractions you wish to visit.
Things to Do
When you are in Nepal there will not be dearth of things for you to indulge in. from spiritual centers for meditation and yoga and temples to adventure, trekking, and hiking options there is a lot for one to do there. This Pandora box of adventure and fun is the best option since there is something for everyone here from kids to adults and seniors. You can go boating on one of the pristine lakes, take a walk through the forests, and shop till you drop, go on a delicious food walk or check out the heritage and culture through its buildings and sightseeing places.
Top Travel Destinations
What makes Nepal one of the top travel destinations in the world? The gently rolling hills, green valleys, pristine clear lakes, scenic trekking and hiking trails and a deep sense of spiritual vibe. Everything works together to give the visitors a picture perfect memorable holiday to spend with their family and loved ones. From the moment you step into this wondrous place you shall be surrounded by nothing but positive vibes. Everything about this charming hill town is precious and extremely memorable. Visit this top holiday destination by booking one of the many holiday packages available.