Udaipur, popularly known as the "City of Lakes" is located in Rajasthan, North West of India. Previously being the capital of Mewar, Udaipur was found by Rana Udai Singh. This place finds a very important place in Indian history due to the bravery of the Rajput chiefs and rulers of Udaipur in preserving the independence, religion and culture against the Mughals. Based on its glorious past and its colorful culture Udaipur has grown up to be a special tourist destination that attracts tourists from all walks of life and from all parts of the globe.
Udaipur has been voted as the World's best city to travel in an online poll by Travel+ Leisure Magazine. Book your Udaipur Tour Packages and get an insight to this marvelous honeymoon destination.
Udaipur presents a myriad of attractions to gratify the tourists of all tastes, though the main attractions continue to be the picturesque lakes and magnificent forts and palaces that characterize the whole Rajasthan. The Lake Palace or Jag Niwas built in white marble on the banks of Lake Pichola is the main attraction of Udaipur. The beautifully carved out structures and the lovely gardens against the backdrop of Aravalli ranges leave the visitors gaze in amazement. Enjoy this honeymoon experience with Udaipur Honeymoon Packages.
The exotic decor of the rooms with carvings, columns, stained glass work, stone work makes up the total beauty of this graceful palace. The City Palace depicts one of the architectural wonders of Rajasthan and it is the largest palace complex with a splendid fusion of Medieval, European and Chinese architecture. Built in marble and granite, this palace houses some beautiful and eye catching courtyards, pavilions, terraces and hanging gardens.
Jag Mandir palace built of yellow sandstone and marble is another architectural marvel that houses the beautiful Gul Mahal built according to the Islamic style of architecture with a mosque in it. Visit this unique place with Udaipur Honeymoon Packages to enjoy a beautiful honeymoon. Lakes forming an integral part of Udaipur have heavenly beauty surrounded by hills and adorned by springs and fountains. Pichola Lake, Fateh-sagar Lake, Jaisamand Lake, Rajsamand Lake, Udaisagar Lake are worth visiting. The Solar Observatory situated on an island of Fateh-sagar Lake is a famous solar observing site in Asia. Short trips to Chittorgarh, Haldighati brings back the heroic deeds of the Rajputs alive. An excursion to the Kumbhalgarh Wildlife sanctuary will definitely add to the thrill and enjoyment of a different flavor in the Udaipur trip.
Honeymoon in Udaipur can be romantic and colorful with the hymns of Mirabai's love and devotion to Lord Krishna and the love ballads of courageous Rajputs ringing in the air. Enjoying boating in the beautiful lakes of Udaipur allows the newlyweds to open up and the exalted monuments sets the beginning of undying love and responsibility to carry throughout the life. Visit Udaipur with our best priced Udaipur Honeymoon Packages for a memorable honeymoon trip.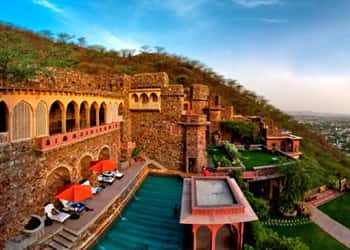 Rajasthan Forts Palaces Tour Package

Destination: Delhi - Samode - Gajner - Bikaner - Jaisalmer - Udaipur
Duration: 17 Nights / 18 Days
Hotel
Flight
Meals
Sightseeing
Bus
Cab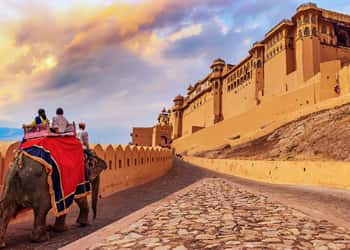 Incredible Rajasthan Tour Package

Destination: Delhi - Jaisalmer - Jodhpur - Udaipur - Jaipur - Agra
Duration: 14 Nights / 15 Days
Hotel
Flight
Meals
Sightseeing
Bus
Cab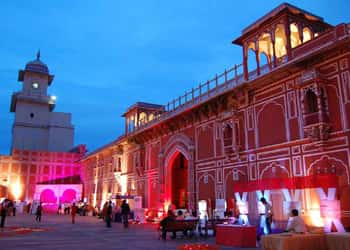 Colorful Rajasthan Tour Package

Destination: Delhi - Ranthambore - Jaipur - Udaipur - Pushkar - Ajmer
Duration: 12 Nights / 13 Days
Hotel
Flight
Meals
Sightseeing
Bus
Cab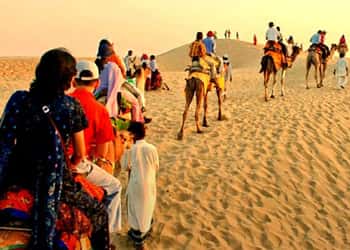 Rajasthan Safari Tour Package

Destination: Delhi - Bikaner - Khimsar - Jaisalmer - Jodhpur - Udaipur
Duration: 09 Nights / 10 Days
Hotel
Flight
Meals
Sightseeing
Bus
Cab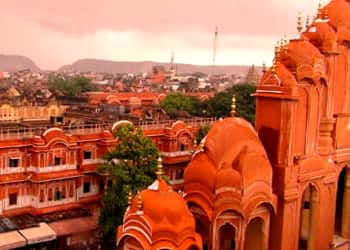 Majestic Rajasthan Tour Package

Destination: Jaipur - Jodhpur - Udaipur
Duration: 05 Nights / 06 Days
Hotel
Flight
Meals
Sightseeing
Bus
Cab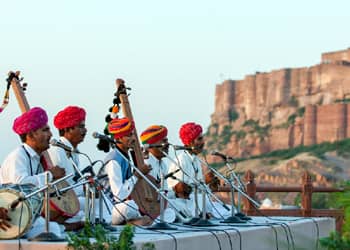 Rajasthan Cultural Tour Package

Destination: Delhi - Bikaner - Jodhpur - Udaipur - Chittorgarh - Ranthambore
Duration: 14 Nights / 15 Days
Hotel
Flight
Meals
Sightseeing
Bus
Cab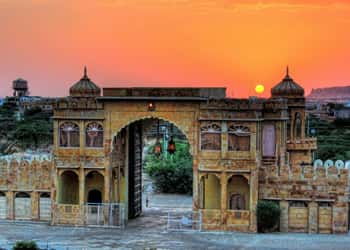 Shining Rajasthan Tour Package

Destination: Jaipur - Bikaner - Jodhpur - Udaipur - Pushkar
Duration: 09 Nights / 10 Days
Hotel
Flight
Meals
Sightseeing
Bus
Cab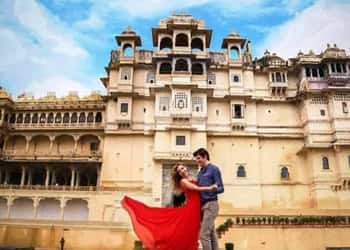 Rajasthan Honeymoon Tour Package

Destination: Jaipur - Pushkar - Udaipur - Delhi
Duration: 05 Nights / 06 Days
Hotel
Flight
Meals
Sightseeing
Bus
Cab