There are two possible routes established to reach the holy cave, one from Jammu to Pahalgam and the other one is Jammu to Baltal. Pilgrims can start their divine journey from any of these two places. Between these two routes Baltal, the northern route is the shorter one which is almost 14 km long. However, it is the steeper one so people mostly prefer the route which starts from Pahalgam which is longer yet easier and the more traditional one. The devotees can start their journey from Srinagar or Pahalgam on their barefoot.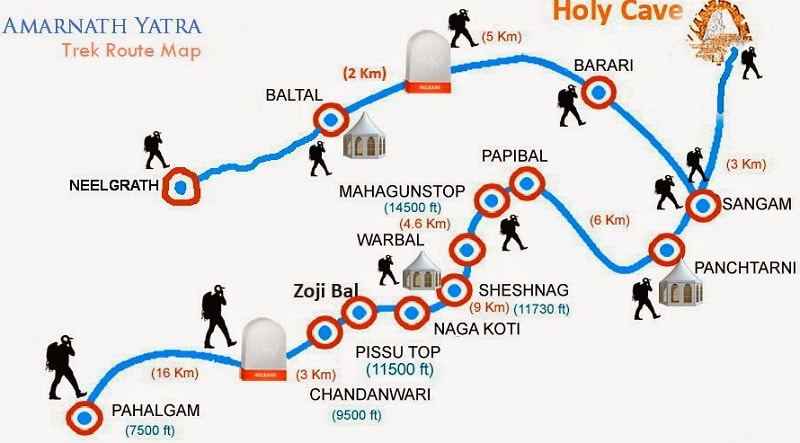 Jammu to Baltal (Shorter Route)
This route goes like this Baltal – Domali – Barari – Sangam – Cave
From Baltal to Domali you need to cover the distance of 2 km and then from Domali you need to cover a distance of 6 km to reach Barari and then after covering the distance of 4 km, you can reach Sangam and then proceed towards the cave which is 2 km away from the cave.
It is around 14 km from Baltal to reach the holy cave and it takes almost 1-2 days as a round trip. There is no provision of pony rides on this route due to certain safety issues and the only option to reach the holy cave is either by walking or by opting for Dandies. This is the best route to way back from the cave as the slope of the other route is quite steep leading to cause certain health problems especially to those who are in adjustable to the climatic conditions.
Jammu to Pahalgam (Longer Route)
Pahalgam – Chandanwadi – Pissu Top – Zoji Bal – Naga Koti – Sheshnag – Warbal – Mahagunas Top – Pabibal – Panchtarni – Sangam – Cave
From Pahalgam to Chandanwari you need to travel for 16 km and then on arrival at Chandanwari you need to cover the trekking distance of almost 13 km to reach Sheshnag and then further trek to Panchtarni for 4.6 km and then from Panchtarni trek towards the holy cave of Baba Bholenath.
The most preferred route to visit the holy cave of Baba Bholenath. The trek is almost 36 to 48 km and it usually takes 3-5 days for one-way. One can find the entire route heavily crowded with ponies and is the best route for old-aged people or devotees with ill health.
How to Reach
The distance between Amarnath and Delhi- 638 kilometers
There is no specific railhead at Amarnath and the nearest railway railhead to Amarnath in Jammu which is situated almost 178 km from the pilgrimage.
Below enlisted are some of the most convenient ways to reach Amarnath from the capital city of India:
By Bus: There are many websites offering online bus ticket services from Delhi to the holy cave of Baba Barfani. The buses are categorized as A/C, non-A/C, Volvo Bus. There are numerous private and public buses running from Delhi to Amarnath.
By Air: The nearest airport to Amarnath is Srinagar which is located around 71 km from your destination. This is the most convenient way to reach Amarnath from Delhi as it takes lesser time as compared to other modes of transportation.
By Train: You will have to spend 12 hours if you are traveling Amarnath from Delhi by train. The nearest railhead is Udhampur which is located 146 km away from the Srinagar Airport.
By Car: If you want to hit the road by your own vehicle or by hiring a cab. This is the best option to travel if you are traveling with your family. The car rental charge can vary according to your selection of car. Be informed that the toll tax shall be incurred by you only.
Reaching Amarnath from the Other Major Cities of India
Being a highly revered pilgrimage in Hinduism, Amarnath is visited by millions of devotees coming from different corners of the country by covering a long distance.
The distance between Kolkata and Amarnath is 1804 km and mostly taxi journey is preferred by the tourists.
The distance between Mumbai and Amarnath is around 1714 km which is almost a 29-hour journey by road. Taxi journey is mostly preferred to cover the distance.
Hyderabad is around 1896 km away from Amarnath which takes approx. 32 hours if you are traveling by road. Below are the most convenient options to reach the holy shrine from some of the major cities of India.
By Air: The nearest airport to Amarnath is located in Srinagar. Srinagar is located around 95 km away from Pahalgam which is the base camp for the holy cave. Some of the most trusted and reputed airlines flying from the major cities of India include Jet Airways, Air India, Go Air, Indigo, and Jet Konnect.
By Train: Jammu which is the nearest railway station is well-connected with most of the major cities of India. Jammu Rajdhani, Himgiri Express, Andaman Express, Sarvodaya Express, and Jhelum Express are some of the trains running between major cities and Amarnath.
By Road: It consumes a lot of time if you are with a plan to travel by bus. So, it's better to hire a taxi if you want to cover the distance by road.