Considered to be the ultimate pilgrimage among devout Hindus and Shaivites this potentially life-changing yatra can be one of the most spiritual experiences you can have. People going on this sacred and holy yatra are required to take a parikrama (walk around) of the Kailasha Parbat which is extremely testing and can take a toll on your health conditions. It is not only a vital pilgrimage destination for just Hindus but it is also visited by people from various different religions that are Jains, Buddhists as well as Bons. Despite the unexpected and difficult situations people readily avail the Kailash Mansarovar yatra packages.
If you are looking to experience this spirituality and take a trip to the seat of Lord Shiva then we bring to you a range of convenient tour packages which are not only affordable and pocket-friendly but are also curated with immense care. From 12 days of Kailash yatra from Kathmandu to the 10 days of Kailash yatra from Nepalgunj and more you will be able to feel the vitality and presence of the Lord himself. You will also be performing the ancient ritual of circumambulating the holy mountain and achieving some enlightenment.
For 12 to 10 days you will be immersed in an incredibly sacred, auspicious and self-enlightening experience. Another important and spiritual aspect of this mountain range is the lake Mansarovar which is situated right on the foothills of the mountain. The gleaming and shimmering blue water of this lake is used by the pilgrims and devotees here to cleanse themselves of all their sins. Evoke a sense of some deep spirituality and love for the lord by availing any one of our holy tour packages which are created with an aim of providing you with a wholesome and spiritual experience.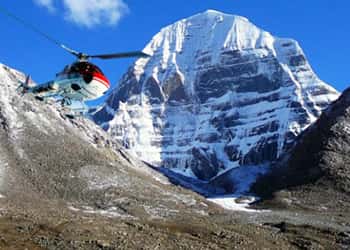 Kailash Mansarovar Helicopter Tour

Destination: Kathmandu - Nepalgunj - Simikot - Mansarovar - Parikrama
Duration: 09 Nights / 10 Days
Hotel
Flight
Meals
Sightseeing
Bus
Cab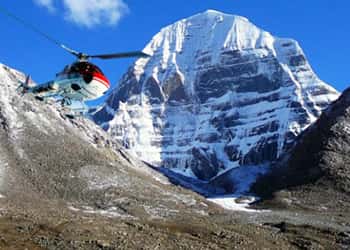 Kailash Mansarovar Yatra Package

Destination: Lucknow - Nepalgunj - Simikot - Mansarovar - Darchen - Simikot
Duration: 09 Nights / 10 Days
Hotel
Flight
Meals
Sightseeing
Bus
Cab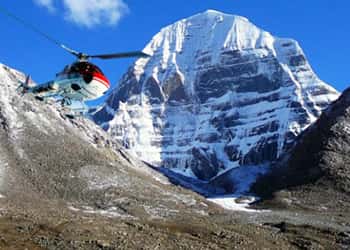 Kailash Mansarovar Tour Package

Destination: Kathmandu - Nepalgunj - Simikot - Mansarovar - Driaphuk
Duration: 11 Nights / 12 Days
Hotel
Flight
Meals
Sightseeing
Bus
Cab