Situated in the Tibetan autonomous region of China, Kailash Mansarovar is the most pious place of Shiva worship. This extraordinary spiritual destination is a high-altitude remote pilgrimage. Considered sacred for Hindus, Buddhists, Jains, Bons and more, this pilgrimage circuit is situated at an altitude of 6,638 meters above sea level. For the Hindu community, mount Kailash is the official holy residence of lord Shiva and Goddess Parvati. The pilgrimage lasts 14 to 15 days and is one of the most grueling and physically challenging experiences ever. Completing the 3 days and 52 kms long Parikrama around the base of Mount Kailash and taking a dip in Lake Mansarovar is the ultimate way of washing away sins for a lifetime.
Being located at a very high altitude, proper planning is crucial to making your trip to Kailash Mansarovar a success. One of the most important factors is weather conditions which are often overlooked by many. Here is everything you need to know about the best time to visit Kailash Mansarovar:
Best Time to Visit Kailash Mansarovar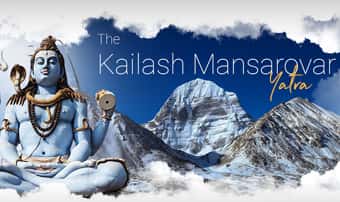 Kailash Mansarovar Mountain is one of the highest peaks in the Himalayan mountain range. This holy pilgrimage is best enjoyed during the early summer months of April to June. Being one of the most remote pilgrimage locations in the world, every month comes with its own set of challenges, pros and cons. For example during May, one might encounter some melted snow from the glaciers during the Parikrama. June is one of the most ideal months for the yatra, still remains crowded with tourists since it's the time when most people are on their summer vacations.
Here are a few reasons why you should plan your Kailash Mansarovar trip during these months:
Summer remains the best time to visit Kailash Mansarovar since the temperature stays between 10 to 15 Degrees Celsius. It doesn't remain unbearably cold and the sun shines clearly due to the absence of clouds.
Summertime in Mount Kailash also welcomes the ideal time to enjoy some interesting and fun outdoor activities. One can go trekking, hiking and enjoy some outdoor bonfire experience as well.
Pilgrims will encounter the least number of obstacles on their journey and have the best pilgrimage experience.
It is also the perfect time to take your children since the weather permits and it would be a memorable experience for them too. Most children's summer vacations also take place during these months, so a Kailash Mansarovar Trip can be the perfect experience.
Other than the yatra, pilgrims can also get an opportunity to experience the Saga Dawa Festival of the local Tibetans.
Winter Season in Kailash Mansarovar
Late October and early March are considered as the peak winter season in the Kailash Mansarovar region. The temperature plummets to as low as -15 to -20 degree Celsius. The region remains covered in everyday heavy snowfall making roads and trekking routes inaccessible. Due to these reasons, the yatra normally remains closed for the season. One should not even attempt to go there during these winter months since there are plenty of dangerous situations associated with harsh weather conditions.
Summer Season in Kailash Mansarovar
June to August mark the summer season in Kailash Mansarovar Yatra. This is also the warmest time the region experiences. Even though the morning temperature remains somewhat favorable where it rises up to 10 degree Celsius, nights will continue to be extremely chilly. One may even experience some occasional rains and cloud cover here and there. Although due to the relatively comfortable conditions, the summer season in Kailash witnesses a huge crowd of devotees worldwide. This may lead to delays in some cases but it would still guarantee a memorable experience nonetheless. As summertime takes its full form in the Kailash Mansarovar region, the ice melts away giving way to the hidden scenic beauty, this is another reason why one must travel to Kailash Mansarovar during the spring-summer season.
Autumn Season in Kailash Mansarovar
The autumn season in the Kailash Mansarovar region lasts from September to early October. As summer months wilt away, it gives way to the cold chilly autumn season which makes traveling here already challenging. The temperature drops to slow as 0 degree Celsius and continues to drop as winter approaches. In case you think you can bear the biting cold harsh winter of the high altitude regions, then planning a trip during this time can be a good choice due to the absence of regular devotees. However, as the autumn months progress the weather becomes increasingly hostile and unpredictable leading to random snowfalls in the region. This may cause hindrances or delays to your plans.
Things To Keep In Mind For Kailash Mansarovar Trip
Going for the Kailash Mansarovar pilgrimage is a massive undertaking that requires intense planning and mental preparedness. Here are a few things to keep in mind for Kailash Mansarovar trip:
Hydration Is Key – No matter which month you decide to go for this holy pilgrimage, remember to keep yourself thoroughly hydrated. High-altitude dehydration can set in very quickly in high-altitude regions. This can lead to serious health complications.
Weather Awareness – Remember to always check and double-check the weather conditions in Kailash Mansarovar. Be mentally prepared for sudden and unexpected weather changes.
Physical Fitness – One of the most crucial factors for every pilgrim to keep in mind is their physical fitness. Being situated in a very high altitude region, one must be physically capable to tackle difficult terrains and demographics. In case you are suffering from a chronic illness make sure to first consult your healthcare provider.
Acclimatization – Remember to not rush through the journey. Acclimatize yourself to the high altitude conditions first. This is one of the most overlooked yet key factors in making your trip to Kailash Mansarovar a memorable one. Gaining height quickly without acclimatizing or allowing your body to adjust to high-altitude situations will lead to high-altitude mountain sickness. The symptoms include intense headache, nausea, sickness, dizziness, fatigue, and shortness of breath. If not taken care of urgently it may prove to be lethal.
Packing Essentials For Kailash Mansarovar Trip
Packing the right things for the Kailash Mansarovar yatra remains the same throughout the season. No matter when you are planning your trip, remember to pack wisely and smartly. It's important to keep in mind the constantly changing and unreliable weather conditions that can take a turn without any warning. Here are the packing essentials for Kailash Mansarovar Trip:
Clothing – Layer yourself and pack lots of thermal inners. Fleece jackets, windcheaters, and waterproof jackets are a must. Trekking pants, mufflers, beanies, and gloves are another crucial element that makes your packing essentials complete. Don't forget to pack thermal or warm woolen socks to keep your toes warm. This will be the perfect clothing pack for every season.
Footwear – A pair of good quality, sturdy, and waterproof trekking shoes is essential. For camp stays you can carry a light pair of sandals or slippers but for the yatra trekking shoes are a must.
Accessories – If you are sensitive to light remember to pack a good pair of reflector sunglasses, sun hat and a good quality water bottle. If carrying a backpack remember to always keep it covered with a waterproof backpack cover.
First Aid Kit And Medicines – Remember to always carry a first aid kit with band-aids, antiseptic cream, pain relief spray, anti-fever medication, anti-high altitude sickness medication and medication for stomach flu.
Skin Protection – Due to the absence of trees and any sort of protection on the pilgrimage route, one must always remember to carry a high-SPF sunscreen, lip balm and cold cream. The high altitude situation here will dry out your skin and leave it extremely dry and tanned.
Miscellaneous Things To Carry – some must carry miscellaneous items include – a portable charger, flashlights with an extra pair of batteries, wet wipes and high-energy snacks.
Frequently Asked Questions (FAQs)
Can I Go To The Kailash Mansarovar Yatra During The Winter Season?
The yatra normally remains shut during the peak winter season due to the harsh weather conditions and the snow blockage.
Can I Expect A Huge Crowd During The Peak Pilgrimage Season?
Yes. One should expect crowded conditions during the peak pilgrimage season.
How Many Days Do You Need For The Kailash Mansarovar Yatra?
You need 14 to 15 days for the Kailash Mansarovar Yatra.
Do Indian Citizens Need A Passport To Visit Kailash?
Yes. A passport is mandatory to visit Kailash Mansarovar.
Can I Take A Dip In The Mansarovar Lake?
Yes. You may take a dip in Mansarovar Lake.