The pilgrimage of Kailash Mansarovar is one of the most important yatras for Hindu believers. This 14 days of gruelling journey under challenging conditions takes the yatris on a soulful, enriching journey to the holiest peak in the Himalayan range. Situated in the Tibetan autonomous region of China, Kailash Mansarovar is dubbed as the abode of Lord Shiva and goddess Parvati. From Hindus and Buddhists to Bons and Jains, this sacred place of worship is also the original source for some of the major river sources in India. Often referred to as the centre of the universe, the journey to Kailash Mansarovar is incredibly challenging. One needs to be mentally and physically prepared to take on this pilgrimage. Currently, there are numerous ways to reach from Delhi, by train, road and flight. However, there is no direct connectivity to Tibet from India. Every pilgrim is required to transit through Nepal or mainland China. Here is a detailed guide on how to reach Kailash Mansarovar:
How to Reach Kailash Mansarovar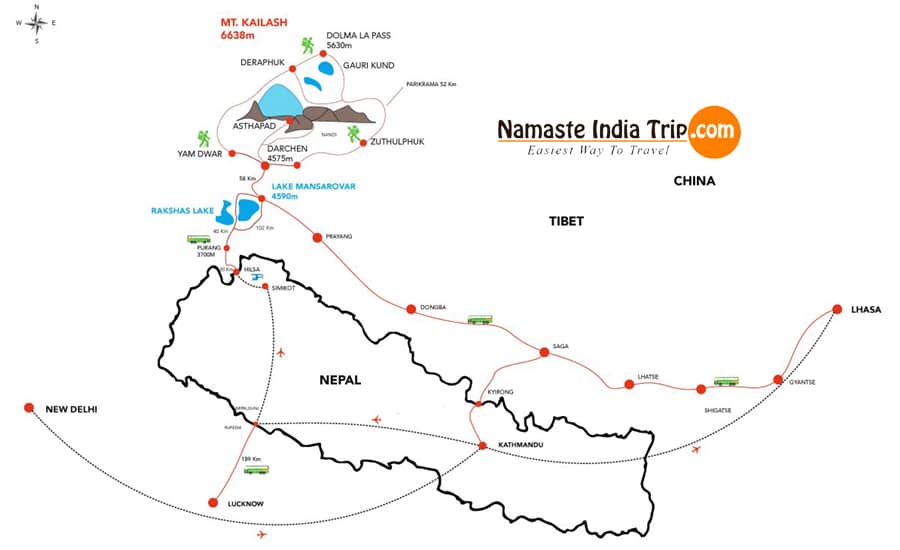 Delhi to Kailash Mansarovar by flight (1,385 km):
There is no connectivity from Delhi to Lhasa by flight. All the pilgrims are advised to book a flight from Delhi international airport to Tribhuvan international airport in Kathmandu, Nepal. Then a transfer flight to Lhasa Gonggar airport is the quickest and the most convenient option. The overall flight distance from Delhi to Kathmandu is 813 kms with a flight time of close to 1 hour and 30 minutes. The connecting flight from Kathmandu to Lhasa takes another 1 hour and 30 minutes, covering a distance of 572 kms. The price of the ticket depends on the travel season. You also have the option of taking a flight from Lhasa to Ngari Kunsha Airport. This flight goes on for a duration of 2 hours. However the sudden and abrupt altitude change might cause sickness, so it is not advised for people to take this route.
Upon arriving at Lhasa pilgrims can easily join a group tour for Kailash Mansarovar. The trip usually lasts for 14-15 days and will take you on a spiritually awakening experience of a lifetime.
Delhi to Kailash Mansarovar by road (2,003 km):
Travelling to Kailash Mansarovar from Delhi by road is quickly becoming a very popular choice among pilgrims. It is also a great way of enjoying the surrounding, natural and untouched scenery. The route is especially preferred by Indian citizens as the access is pretty unrestricted for them in Nepal as well as the surrounding areas.
The journey will start off by taking a bus ride from Delhi to Kathmandu which will be a journey of roughly 1,150 km and takes over 24 hours to cover. On reaching Kathmandu one can hire a car or a taxi and then make their way to Mt. Kailash. There is no bus access from Kathmandu to Mt. Kailash hence a car on rent or hire is advised. This will also entail crossing of the Nepal – China border via the Gyirong port. The group tour packages include accommodation, all entrance fees, vehicle, tour guide service etc.
In order to provide a comfortable route to Kailash Mansarovar, recently the government of India has completed its road project as well. These are the two viable routes:
Kailash Mansarovar route via Uttarakhand
The journey starts off from Delhi by road. The journey continues on from Tanakpur or Kathgodam to Kailash Mansarovar via Dharchula – Tawaghat – Lipulekh Darma and Johar Valleys. The Lipulekh Pass route requires some amount of trekking due to the absence of motorable roads. The entire duration of the trip from the Kumaon side takes 24 days and will also cover some of the major tourist attractions such as Patal Bhuvaneshwar, and Narayan Ashram as well.
Kailash Mansarovar route via Sikkim
After reaching Sikkim from any of your preferred ways, the trip to Kailash Mansarovar commences via Nathu La, a motorable pass. It is also a much-preferred route to take for senior citizens that are unable to cover the trekking journey on foot. From Gangtok, the route makes its way through scenic beauties and natural tourist attractions like Hangu Lake. This will be an undertaking of 21 days.
Delhi to Kailash Mansarovar by train
There is no direct train route available from Delhi to Tibet, hence the pilgrims are compelled to take a train from Delhi to Gorakhpur. This entire train journey covers a distance of 822 kms and takes about 12 hours to cover. The ticket prices are also very reasonable. On reaching Gorakhpur one can take a bus ride to reach Kathmandu which is another pocket-friendly option. Currently, there are no connecting train routes available from Nepal to Tibet and the only train option extends till Shigatse which is 50 km away from the border. The bus journey covers a distance of just 323 km and takes about 11 to 12 hours to cover. On reaching Kathmandu you can either take the flight or the road route as mentioned above, depending on your budget and convenience.
Kailash Mansarovar yatra route map from Delhi
The route map includes road routes and helicopter journeys as well. Here is the best route to take for your Kailash Mansarovar yatra:
Delhi – Lucknow – Nepalgunj – Simikot – Hilsa (by helicopter) – Taklakot – Kailash Mansarovar.
Kailash Mansarovar from Delhi itinerary summary
Here is a short summary of Kailash Mansarovar Yatra itinerary from Delhi:
Day 1 – Delhi – Lucknow – Nepalgunj
On reaching from Lucknow, passengers need to make their way to Nepalgunj via a road journey. Night stay at Nepalgunj.
Day 2 – Nepalgunj – Simikot
From Nepalgunj, the journey will be further with the help of a connecting aircraft. This is generally a complicated part of the trip as the flight journey depends on the weather conditions that constantly keeps on changing. After covering a flight journey of 45 minutes, a rest day at Simikot will follow.
Day 3 – Simikot – Hilsa – Taklakot
From Simikot a 25-minute or half-hour of helicopter ride to Hilsa will take place. After the helicopter ride the pilgrims will be crossing a swinging bridge, complete the border crossing formalities and then finally cross over from Nepal to China by walking. On entering the China side, a bus will be available connecting to Taklakot for staying the night. This drive is a journey of 22 kms.
Day 4 – Taklakot: one day of acclimatization is necessary to avoid high-altitude mountain sickness.
Day 5 – Taklakot – Mt. Kailash and Lake Mansarovar:
This will be the day of your final leg of the journey covering Taklakot to Mt. Kailash Mansarovar by road. En route pilgrims can also cover various important religious points as well. One can check in to a nearby guesthouse for completing the parikrama.
The parikrama can take 2 to 3 days to cover depending on several factors. Pilgrims will be making their way back the same route they came in.
Travel documents required:
One of the most important travel documents is a Tibet travel permit. Even if you are not going to Lhasa you are still expected to carry that permit if you enter Tibet. All Indian passport holders will be classified as pilgrims even if they are there for sightseeing purposes. Every Indian pilgrim is expected to apply for a Tibet travel permit as well as a China VISA. This is done through the foreign affairs office in the Tibetan autonomous region. All the affairs of the Indian pilgrims are handled at the foreign affairs office and the China India pilgrim service center. These are the only two organizations responsible for organizing the pilgrimage.
Frequently Asked Questions (FAQs):
What Is The Best Time To Visit Kailash Mansarovar?
May to mid-October is considered as the best time to go for the Kailash Mansarovar Yatra.
What Is The Biggest Risk Involved While Undertaking The Kailash Mansarovar Yatra?
The biggest risk involved in the Kailash Mansarovar yatra is the onset of high-altitude mountain sickness.
What Is The Average Altitude Of The Kailash Mansarovar Trip?
On average a pilgrim will be journeying on an elevation of 5,000 meters above sea level.
How Many Days Is Needed For Kailash Mansarovar Yatra?
About 14 to 15 days are needed for the Kailash Mansarovar Yatra.
Is Kailash Mansarovar Yatra Difficult?
Yes. It is one of the toughest yet doable pilgrimages in the world.