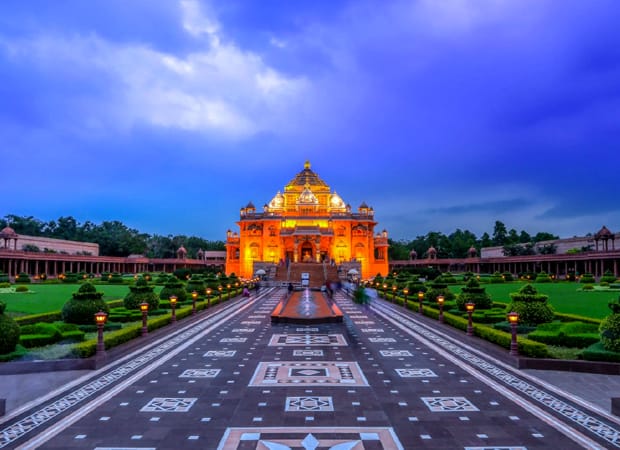 Gujarat Travel Guide
| | |
| --- | --- |
| Capital: | Gandhinagar |
| Population: | 60,383,628 |
| Religion: | Hinduism 88.57 % | Islam 9.67 % | Jainism 0.96 % | Christianity 0.52 % | Sikhism 0.10 % | Buddhism 0.05 % |
| Area: | 196,024 Km2 |
| Language: | Gujarati, Hindi and English |
---
Weather:

39° C - 20° C
Ideal Duration: 2-3 Days
Best Time: Nov-Feb
Nearest Airport: Ahmedabad
The westernmost, the coastal state of India Gujarat, is one of the most stunning oasis for travellers, spiritual seekers and offbeat places explorers. It is a goldmine for visitors from all over the world since it is home to the grand salt desert of Rann Kutch to the holy places of worship like Somnath Jyotirlinga and Dwarkadhish Temple. Apart from this Gujarat is also the final home for the endangered species of Asiatic lion in Gir National Park and the beaches here sure offer a tranquil getaway from the bustle and chaos of the tourist places.
It is also evident with the presence of historical archaeological sites like Lothal and Dholavira, that this is where most of the civilisation had developed. Apart from its obvious value in the development of Indian history, Gujarat has also given the world people like Mahatma Gandhi, Narendra Modi, Mukesh Ambani and so many more who have taken the Indian nation forward with time. This is a place where culture and traditions are very well preserved through centuries and continue to attract people from all over the world. It is evident through sources that this Indian state has always been one of the major centres of attractions either for trade or holidays.
Gujarat is also famous as the ancient kingdom of Lord Krishna as well as the home to some of the most unique festivals. Travelling to this state in the west is very easy and accessible. So it is a very good idea for you to travel here during the time of festivals like Navratri, Uttarayan or Modhera dance festival that takes place for 3 whole days.
The state is connected through various modes and networks for transportation i.e. via airways, railways, and roadways to different parts of the world and its neighboring places as well.
From the Havelis and opulent palaces of Gujarat to the tribes that have found their homes in various parts of this state every experience here are distinct from one another and create a harmonious synchronization of activities for one to indulge in. it has opened its arms to people of all age groups with varied interests. One could spend their time relaxing on one of the many beaches here or go on a temple tour or have and exciting time at the jeep safari in places like Velavadar Wildlife Sanctuary, marine and blackbuck national park to name a few.
Planning a trip to Gujarat can be a difficult task and may get hectic since almost everything there is so fun and adventure-packed. The travel guide for Gujarat gives detailed insights and information about things that may come in handy or prove to be useful in exploring this Pandora box of jewels. Know where to stay, what to see, about its festivals, culture and so much more that will make you pack your bags to this beautiful land of promises right away, no matter what your intention is about visiting this place you will definitely leave with a lifetime worth of memories.
About Gujarat
Located on the western edge of India and boasting of some of the most stunning tourist attractions stands tall, one of the most awe-inspiring and colorful destination of Gujarat. It is a colorful land filled with indigenous people depicting the rich culture and heritage which has been passed on over generations. Gujarat is not just a place to visit with your family and friends it is an experience and a feeling which can only be felt if done right. It has all the right components to make your holiday here a successful one.
The the iconic former kingdom of Lord Krishna and the presence of temples like Somnath Jyotirlinga and Dwarkadheesh Temple, this place holds some of the richest spiritual vibes which annually innumerable tourists visit to explore. This place represents the real face of what India truly stands for i.e. culture, ethnicity and rich heritage blending perfectly with the unstoppable modernization. Tourists visit Gujarat for a multitude of reasons ranging from religious pilgrimages for various Indian communities to spending some leisurely or adventurous time here filled with awe and thrill. The activities and experiences here are simply unique and takes you on a holiday of a lifetime.
Where on one hand the pilgrimages here to various hotspots of religion big and small are extremely highly revered on the other hand there are various different packages available to cater to the needs of various other avenues of travel and tourism.
The unique Triveni Ghat here and the iconic and legendary underwater land of Beyt Dwarka has managed to prove this place as one of the holiest places especially if you are on a spiritual quest of yourself. Apart from the obvious and very significant religious value attached to this land, it is so much more than just that.
It is home to one of the largest salt deserts in the world i.e. the great ran of Kutch that springs to life during the 3 months of winter to celebrate the rich authentic culture and display of the traditions and heritage of Gujarat. Gir national park is another attraction without visiting which a holiday to Gujarat remains incomplete in all aspects. Taking a jeep safari into the heart of the national park, and checking out some of the most varied selections of the flora and fauna there is truly a magical experience in itself that is best experienced with friends and family members.
So what more are you waiting for? All you have to do it look and browse through the range of packages mentioned below, choose the price range best suited for your needs sort out your days of vacation and you are all good to go. Experience the land which was once Krishna's very own golden kingdom and the only home for the diminishing population of the Asiatic lions. Even if you want a leisurely vacation then spending some quality time camping on the island of Diu is much recommended. That's all it takes to make any of your holiday memorable with us.
Holiday Packages
There is no dearth of holiday packages for 1 to avail in case of Gujarat. Available at the most valid and reasonable prices these holiday packages are designed primarily to meet your travel needs and give value for money experiences. Catering to the needs of everyone ranging from religious pilgrims to adventure enthusiasts a holiday in Gujarat will surely leave a lasting impression in your heart. All the packages are created with the help of some of the most expert traveler and travel agents who go the extra mile to make your holiday with loved ones extremely memorable and totally worth it. Browse and book the package of your liking now.
Things to Do
There is literally no dearth of activities for the travelers and tourists to indulge in Gujarat. From camping out at the beach and exploring the natural beauty of Rann of Kutch to offering your Darshan to the almighty at the iconic temples of Somnath and Dwarkadheesh. Going on jeep safari ride in Gir National Park or checking out India's 1st marine national park and so much more. If you love to explore the culture of a place then Gujarat is an ideal destination for you. Here are some of the best activities curated especially for your interest.