Gujarat is the state where every aspect represents the rich traditions and incredible heritage which dates back to ages and centuries back. From being the kingdom of Lord Krishna to being home to the salt desert of the Great Rann of Kutch it is a place where the authenticity of Gujarati culture is kept alive. Just like its food, architecture, and way of life the dressing sense of the people of Gujarat are very distinctive from the rest of India. It represents the age-old culture and the modern changes coexisting in unison with each other.
Generally speaking, the outfits worn by the Gujarati Folks, men and women are very colorful and enriched with various ornaments as well. They also love to include some very beautiful and fancy Jewellery as well as various accessories. Given below is everything you need to know about the Gujarati attire adorned by the local population here:
Traditional Clothing for Men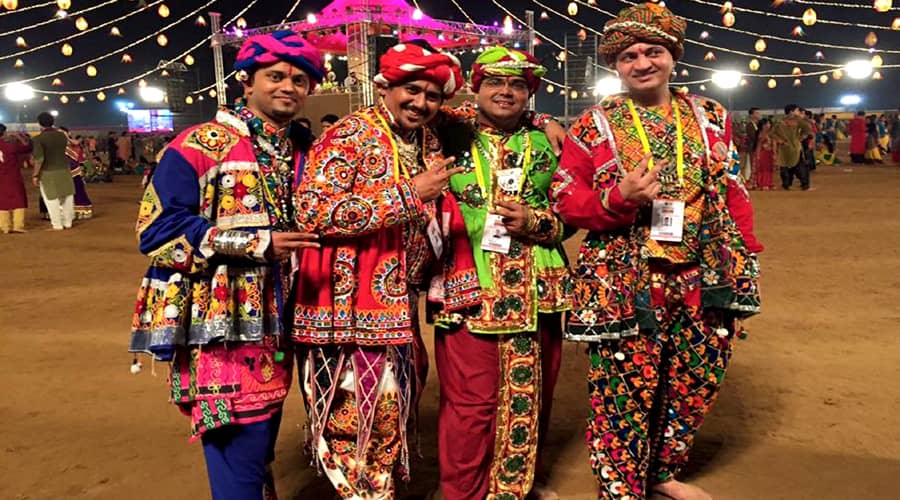 Chorn: When in Gujarat you will definitely witness the local men wearing a sort of a pair of cotton pants that has a very close resemblance to a well-stitched dhoti. Bring situated in very warm and hot climatic conditions this piece of clothing is very loose and comfortable making moving around very cool and easy. Men use a piece of string or elastic to fix it to the waist. This clothing wear is referred to as a Chorn that can also be found easily anywhere in one of the many market places here.
Kediyu: Chorno, mentioned above, is paired up with a garment which works as a top for wearing above in the form of a top. It resembles a frock like clothing and is probably one of the most popular male costumes of Gujarat. Adorned with colorful patterns and various frills Kediyu is also referred to as an Angrakhu. It is available widely in various patterns, designs and Colours which looks extremely beautiful and is worn during various different local events and festivals.
Dhoti: This long, simple, white / Coloured piece of garment is a very popular clothing item not only in Gujarat but also among the people of India. It is worn by wrapping this piece of clothing around the waist and through the legs and finally tucking it in. this can be worn not only during some occasion or festival but it is also used in normal day to day life and as a form of casual wear especially in the village regions.
Phento: While going through the pictures of the local Gujarati men you will find a stunning resemblance with the local men of Rajasthan which is due to the adorning of a traditional colorful hat. This is a common piece of accessory that holds the whole look of the attire in one place. One can easily find these interesting headgear which is created by layering pieces of cloth and wrapping it around the head.
Traditional Clothing for Women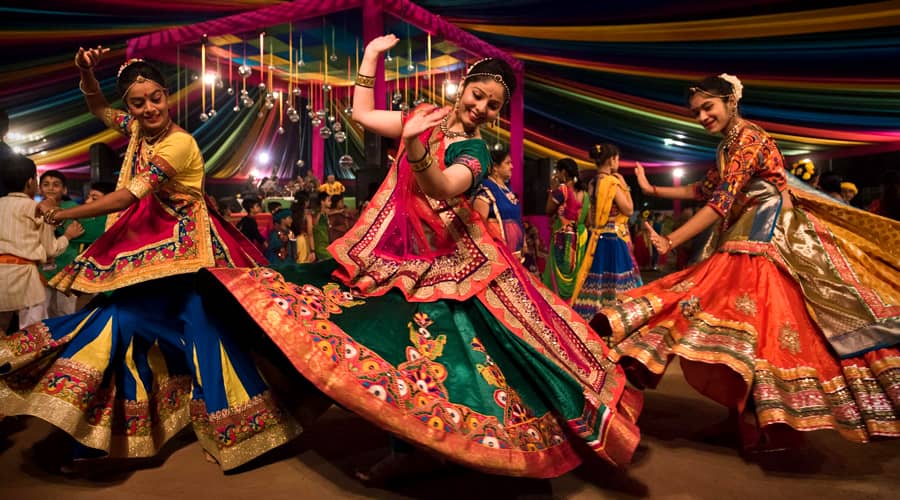 Ghagra/Chaniya Choli: It goes without saying that this particular piece of traditional Gujarati clothing is probably one of the most popular ethnic wear. Women dawn this traditional attire which is made out of colorful patterns, mirror work, and interesting ethnic designs, during some festival or a traditional occasion. People from all over the world admire Ghagra for its lively and charming outlook which can also be worn with an Odhni which is a Dupatta or a Chunri.
Chaniyo: One may easily confuse a Chaniyo with a Lehenga since they both look almost similar to each other. Available in a range of different shades of colors this is a petticoat like clothing wear which also sort of looks like a traditional skirt. The Chaniyo is filled with various unique thread works and even mirror works which makes it all the more pretty to wear and look at. A Chaniyo can be paired up with a beautiful top or a tunic which goes well with the bottom wear.
Chunni: Traditional and ethnic Chunnis of Gujarat is famous all over the world for their interesting colors, patterns, and charming designs. As we all know this pretty looking piece of clothing which can also be worn with Lehengas, skirts, and Kurtas. The local women use a Chunri to wear it diagonally or to cover their heads as seen among the local village residents in and around the region of Gujarat. This can also be seen all over India and not only the region of Gujarat.
Traditional Gujarati Accessories
Accessories are a very crucial part of a complete Gujarati clothing wear they are used not only as a status symbol but through Jewellery people also show their marriage status and their rich Gujarati culture. A married woman in Gujarat adorns a Mangalsutra, Bangles, Necklaces, ethnic earrings and even traditional nose rings. In the case of unmarried women and ladies, they wear tiny Balis or loop earrings. Nath or a studded nose rings are also worn by them. A crucial part of not only Gujarati women but also for the married women of India is the application of a Bindi and a Sindoor. Another trend for married Gujarati women is the wearing of an ornate key ring complete with tassels in a key ring and hung around the waist.