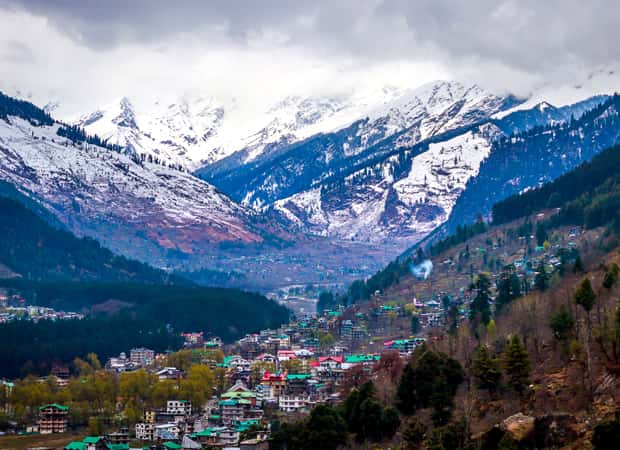 Manali Travel Guide
| | |
| --- | --- |
| Location: | Himachal Pradesh, India |
| Population: | 8,096 |
| Religion: | Hinduism 84.1 % | Buddhism 13.2 % | Islam 1.27 % | Christianity 0.99 % | Sikhism 0.35 % | Jainism 0.04 % |
| Elevation: | 2,050 m (6,730 ft) |
| Language: | Hindi |
---
Weather:

19° C - 0° C
Ideal Duration: 2-3 Days
Best Time: Mar-Jun
Nearest Airport: Shimla
If you google the best hill stations of India, Manali has to be on the list, and rightly so! Manali is the crowning glory of India that is nestled in the Himalayas and attracts thousands of domestic and international tourists throughout the year. Once referred to as the 'end of the habitable world' Manali is filled with bountiful views and an ever-present deep-seated sense of aura which is a result of centuries of harboring sages, great thinkers and philosophers. It is a haven and a great escape route for people looking to beat the unbearable summer of the plains.
Over time Manali has turned into one of the most iconic places to relax, unwind, and even indulge in fun adventure activities. It has everything to keep travelers of all ages engaged and involved for any duration of their stay here. From temples and holy spots of worship to shopping in traditional marketplaces and going hiking, camping, trekking, or rafting, there is so much to do in Manali that you will never get bored. The green hills of the valley are peppered with traditional homes, farmlands that are run by the local tribes and communities inhabiting these parts of Himachal Pradesh.
A typical Manali Travel Guide will take you on a life-changing trip to this mystical valley of the gods. Offer your prayer to the goddess at the iconic and legendary Hidimba Devi Temple, Manu Temple, get an adrenaline kick in the sloping wilderness of Solang valley, listen to the water crashing down at the Jogini Waterfall,
get in touch with Buddhism at the Manali Gompa, go for a scenic beauty-filled trekking adventure to Hampta Pass and so much more. The list could go on and on to show that Manali is a harmonious blend of nerve-racking thrill and senses calming peace.
Manali Tourism has been reaching its peak ever since good roads have made it even more accessible to its nearby and neighboring cities like Delhi, Punjab, Haryana, UP among others. When in Manali do not miss out on an opportunity to interact with the local Manali residents who can be seen wearing their traditional jewels and attire. They are warm, welcoming and getting to know them better would add a sense of awe to your travel plans. No matter where you are coming from one thing is for sure Manali tourism will give you the best of both worlds.
Manali is comfortably placed on an elevation of just above 2,000 meters above sea level making it the perfect place to get some chill during the peak summertime. With sweeping views of the snowcapped peaks and glistening tall green trees of pine and fir, the entire land of Manali covers the banks of life-giving and legendary river Beas. While in winter Manali turns into a snow-white winter wonderland, in summer it springs to life and color. No matter which time of the year you choose to go to Manali, one thing is for sure, you will not get bored even for a single minute.
About Manali
Manali is situated on an average elevation of just over 2,000 meters above sea level and is considered to be one of the most graceful hill stations India has to offer. This Himalayan hamlet is overlooked by the snowcapped peaks and natural beauty that goes beyond imagination. The history of this iconic hill station goes back to the prehistoric ages with many more folklore and legends mentioning it in literary sources. Have you ever wondered what gave Manali its name? According to legends and folklore found in Hindu mythological accounts, the name is drawn from the 7th incarnation of Manu called Vaivasvata.
According to the sources, when the world was ending and everything was covered in floodwater, Manu made an ark and housed all the possible animals, birds, and plants he could. They then stayed in the boat until the flood had subsided and then Manu brought the boat and secured it in what is known currently as Manali which can now be seen as clearly named after Manu.
Manali experienced a serious boom in tourism by the 20th century when people used to come here for peace, solitude, and just to get in touch with nature. The government has come up with various projects that make Manali better connected to its neighboring and nearby places like Punjab and Delhi through tunnels, highways, and roads. Getting to Manali is no more a forlorn dream.
This gift of the Himalayas to the whole world is nestled peacefully right next to the banks of the Beas River that offers a water source to not only a peaceful vibe but is also a life-giving source for the locals here.
The sleepy village of Manali which is known for being the top-notch destination for hill station getaways or even if you are just looking to take some time off from the chaotic city life, is packed with incredibly rich history, legends and mythologies. The wide-open green fields offer the perfect photo ops for photographers, curious travelers, and explorers of remote places. Nestled peacefully in the district of Kullu in Himachal Pradesh, Manali has many exploration options even if you choose to go outside Manali. It is the base town for much other hiking, high-altitude trekking trails, and even mountaineering adventures.
The valley of gods is enveloped in a deep sense of peace which is inescapable and will capture all your senses. If you are someone who hasn't seen snow, then Manali could be a great start. Playing snowball fights in the snowcapped peaks of Rohtang Pass can be done even during the peak summer times. Being surrounded by a thick cover of green forest, every step of the way you will be feasting on mesmerizing views and one of a kind serenity that cannot be found or replicated anywhere else, not just in India but anywhere in the world.
Things to Do
Things to do in Varanasi is not as numerous as to do lists in other cities, yet a few of them get overlooked by those planning a trip to this town. Varanasi is as old as human civilization is. The ancient city nestled at the banks of River Ganges is located in Uttar Pradesh. One of the seven holy cities in India, Varanasi also has the names of Benares and Kashi. From birth to death, every aspect of earthy existence and some say even salvation is achieved only in the 5000 year old city. The experience of the city is beyond words.
Two worlds come together in Varanasi and each one spectacular in their own way. The beating heart of Hindu culture, pilgrims believe that the city offers moksha (liberation from the cycle of birth and death). And then there are overtures of modernity in activities such as the evening Aarti which is a spectacle on grand scale.