Nestled away amidst the scenic and divine hills of the Himalayas, Manali is a beautiful, quaint hill town that is home to not just a variety of flora and fauna but also too many different ethnicities. It is a wonderful mosaic of vibrant tribes, communities, and groups following different traditions, customs, and beliefs. Being the center of attention since the ancient ages, Manali has attracted lots of attention throughout and has now quickly turned into one of the most beloved prides of the north.
The way the locals of Manali dress represents their way of life and what their beliefs stand for. That's the thing about the traditional Pahari dresses of the locals in Manali. They are made by hand, locally, using the locally available resources and made in a way to beat the harsh weather conditions. You can very well spot the locals on the streets of Manali solely based on their clothing pieces.
Here is everything you need to learn about the traditional dress of Manali:
Traditional Costume of Manali – Pahari Traditional Dress
Traditional Dress of Manali Men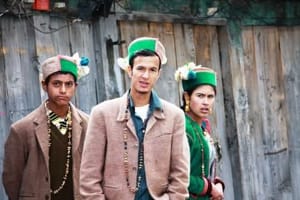 The way men in Himachal dress up depicts which caste they belong to, what their profession is, and sometimes even which tribe or village they are coming from. It is not just random pieces of clothing but they have a lot of meaning and value attached to them. Broadly the population of Himachal is broadly divided into 2 groups; Brahmins and Rajput's. This means that you could easily identify a Rajput man from a Brahmin man in Manali.
Rajput men make it a point to wear a long Kurta on Churidar Pajamas that gathers tightly around the ankles. A silk overcoat is another piece of interesting traditional clothing among Rajput men which is worn as a part of the tradition as well as to keep them safe from the biting cold. They also use yak leather embroidered with gold threads to make these awesome overcoats. A cloth turban is another piece of headgear that Pahari Rajput men wear. As a sign of pride, these men also grow out their moustache which is the real thread that holds the whole look together.
Brahmin men follow a simpler way of life which is depicted through their mostly white clothing. They wear long, mostly white, Kurta over a dhoti and a long overcoat topped with a similar turban to that of the Rajputs. What distinguishes the Brahmins is a soft towel-like cloth that these men carry on their shoulders. During special occasions, they swap the turban with a stiff cap, a woolen shawl, and Kurta pajama instead of the dhoti.
Traditional Dress of Manali Women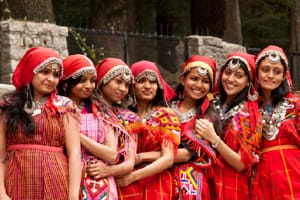 Himachali women are known for their interesting and unique styles that combine the ancient style of traditional designs, patterns, and bold colors. Jewellery is especially something that stands out. Except for a few variations it is very difficult to spot the difference between different tribes of Himachali women. Just like in the case of men, Rajput and Brahmin women are also divided broadly on the way they dress up.
Rajput women dress up in very long dresses covering their neck up to their feet. Traditionally they wear it over their long skirt or an oversized loose Salwar. This dress looks like a very long traditional Kurta. These are called Ghagras and Cholis worn under shirts or Kurtas. Largely these days, they also wear Salwar Kameez. With their clothing, they make sure to accessorize with a lot of bangles and traditional Jewelleries. The footwear they wear is made out of some locally sourced raw material like a yak skin or leather.
Somewhat similar to their traditional Rajput women counterparts, Brahmin women also wear a shirt or a blouse over salwar or a long skirt. Most of the women also tie up their Dupatta on their heads into a knot. During special occasions, they make sure to wear clothes made with good material and decorated with embellishments and fine embroidery.
Traditional Dress of Tribals in Manali
The Tribals constitute a majority of the inhabitants in the remote reaches of the hills of Manali. They coexist peacefully with nature and live humble lives dependent on natural resources. They live in forests and even reserves and national parks where civilians are not even allowed to venture. The Tribals of Manali, Spiti, and Kinnaur have a whole life of their own in the far-out parts of Himachali.
Tribal Women – The mark of any tribal women, be it in India or in foreign countries, is bulky and chunky silver Jewellery. For various special occasions, they wear vibrantly colored clothes and bulk Jewellery. They also cover their heads with a cloth which has its own name according to different tribes.
Tribal men mostly wear what people in the main city or villages of Manali wear more or less similar sort of clothing. To any layman or a tourist, they would fail to even recognize any difference. Tribal men wear Chola or a Kurta over something called a sultan or trousers. They adorn the lower with some kind of a belt called Dora that are specially hand woven and are available in various sizes.
The ethnic costumes of the Tribals of Manali are very similar to that of the Brahmins and Rajputs in Manali. Some of the most popular tribes of Himachal are Gaddis, Pangwalas, Kinnauris, and Gujjars.
Traditional Jewellery and Ornaments
Ornaments and Jewellery of men and women are considered to be very important parts of any traditional clothing among men as well as women. No matter which tribe or community you belong to, traditional Jewellery can be seen on every woman of Himachali. Some names of popular Jewellery here include – Chakk or a silver ornament that adorns the head, Chiiri or a Maang Tikka, Jhumka or dangling large earrings, Chandrahar which is an elaborate neckpiece with a pendant worn only on special occasions.
The traditional clothes of men and women of Manali and other parts of Himachal Pradesh are very distinct and can be spotted easily in a crowd. They are boldly colored and beautifully embroidered along with being very purposeful during the harsh cold winter season.