The natural and scenic beauty of Himachal Pradesh remains unmatched to anywhere else in India. Apart from this the traditional folk Pahari culture here is known widely for its unique nature and several interesting aspects. Every Pahari folk here from the tribes to the sub-tribes and the majorly occurring inhabitants have a very different way of life on the hills when compared to life in the cities and metros. From their lifestyle, languages, and occupation to food, festival, and even their clothing, everything is so contrasting to the rest of India that it seems like the perfect getaway option whenever possible. A trip here will also open up your eyes regarding the diversity of our beautiful sub-continent.
Here is something you should know about the traditional clothing and folk attire of men and women in Himachal Pradesh:
Traditional Himachali Clothing for Men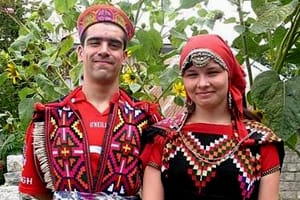 Traditionally the entire population of Himachal is divided between the Brahmins and the Rajputs which are the 2 of the most widely known communities in India. There is a way the people dress up here differentiates between the 2 communities effortlessly. Although both of their attires are somewhat identical, but on close observation, you will be able to take notice of these minor differences.
Rajput men adorn a tightly worn Churidar Pajama along with a long Kurta accompanied with a silk overcoat. Just like everyone on the hills people Utilise the locally produced available raw materials. The overcoats are made with the help of yak leather with the help of golden threads That helps the people wearing it keep them warm even during the harshest winter. Many of the village men can be seen wearing a turban made out of starch stiffened and color dyed to suit the need of the person wearing it. Among the men of the Rajput community, a long moustache and a turban is a mark of pride and honor. Brahmin men can be seen in a simple traditional dhoti, Kurta, and a waistcoat along with an overcoat during the winter season. Priests can be seen wearing a white soft piece of cloth like a Gamcha on their shoulder.
During some special occasion like a wedding or some festival or celebration, men can be seen wearing their traditional clothes but only with fine embroidery work on them. The Kurta, Pyjama, and caps along with shawls are very well embroidered and delicately stitched.
Traditional Himachali Clothing for Women
Just like the men, Pahari women's clothing is also divided between the two communities of Brahman and Rajputs. A Women from Rajput community usually wears a long Kurta that goes from the neck to the toe covering almost the entire length of their body. Initially, there was very strict purdah or a veil rule which with time has now been abolished and no longer relevant. They also wear Salwar Kameez and Ghagras which are like long flare skirts and comes in a variety of color combinations and patterns. Cholis are worn above these Ghagras as a blouse. The most loved accessory here remains many bangles that are worn on each arm. The clothing of Brahmin women is also extremely similar to the clothing of the Rajputs like the Salwar Kameez and Ghagra Choli. During special events like weddings, festivals and fairs women like to wear a traditionally Women Ghagra Choli with traditional rings and locally made bangles in beautiful patterns and styles. Some women also choose to wear footwear made out of animal skin and grass which is extremely useful in keeping your feet warm and safe from the possibility of frostbite even during the harshest winter.
Traditional Jewelry and Ornaments of Himachali Women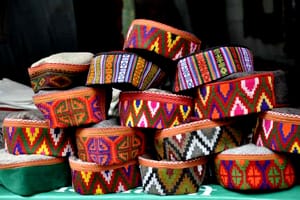 Women love wearing accessories and jewelry items and in this case, is not divided amongst different communities. Some interesting and popular items of jewelry among the Pahari women include Check which is a Maang Tikka sort of a silver piece of jewelry worn on the head. A special local traditional necklace or a pendant like jewelry item known as Chandrahar is also worn during special occasions like Marriages, festivals, etc. Chiri is another traditional Maang Tikka like item which is very popular among the women on the hills. Jhumkas (dangling earrings); Toke a wristband and Pari an anklet or a foot necklace is another set of jewelry women love and admire in Himachal Pradesh.
Tribal Himachali Clothing
Himachal serves as home to numerous tribes that has been existing here since the ancient ages. They exist in large numbers especially in the regions of Kinnaur, Lahaul, and Spiti along with a couple of other regions in Manali. Women in these regions can be seen wearing large chunky silver jewelry especially by the women in the district of Lahaul and Spiti. Other extremely popular items of accessories are Dohru, Bushehri Topi, and stall. People of Himachal believe in preserving their roots through the way they dress up and through their folk attire as well. They believe that their true ethnicity and ancestral heritage by wearing the clothes that has been worn since the past ages.