It would be a rare soul that would not be moved by the beauty of fabulously fascinating Himachal Pradesh, a land where the Heavens meet the Earth and make for a poetry composed of sharp high notes of the mountains, sonorous mid-low notes of rolling valleys, gurgling rivers and melodious harmony in the air. Your heart breaks out into a song when you are surrounded by such ineffable beauty. You simply cannot have enough of this charmingly enchanted land and its joyous attractions like Simla, Kufri, Manali, Kullu, Dharamsala and Dalhousie.
There are so many places to visit and so much to do that if you go on your own it is unlikely you will be able to manage it and still have time and energy to enjoy the beauties of the place. An arranged group tour is the best way to go if you wish to be relieved of the bother of travel arrangements and accommodation. The important thing about selecting the right fascinating Himachal tour package is the destinations they pick for you and the time you get to actually experience the beauties of each place. Some tour operators can rush you through a trip leaving you tired and a bit unsatisfied that you did not get the time to know a place. The right tour operator, on the other hand, gives importance to the experience at each place and gently takes you on a wonderfully guided tour of the most beauteous and charming places. A typical 11 days 10 nights fascinating Himachal itinerary would follow this schedule: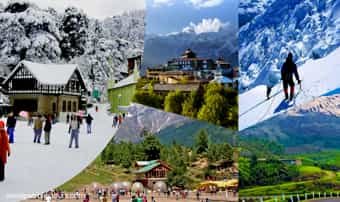 | | |
| --- | --- |
| Tour Duration: | 10 Nights / 11 Days |
| Destination: | Delhi - Shimla - Manali - Amritsar |
| Tour Price: | On Request /- |
Arrive in Delhi to be greeted by the tour guide and taken to Simla in a lovely coach. It takes nine hours so you will be tired and can rest in the wonderful accommodation or explore the Mall by night.
Day 02: Trip to Kufri & Shimla Sightseeing
Kufri, about 20 kilometers away, is where you will proceed in the afternoon after a morning sightseeing tour of Simla that takes you to Jakhu temple, Christ Church and Kalbadevi temple. Kufri is a refreshing change, still pristine and an intoxicating mix of mountains, firs and densely forested valleys. Late in the evening you return to Shimla, enjoy the sights and sleep.
Day 03: Shimla to Kullu & Manali
Morning, breakfast and then board the coach for a trip to Kullu and Manali, a drive of seven hours across fabulous countryside dotted with forests, mountains and rivers. Arrive in Manali and spend the night in your hotel room with expectations of lots to do the next day.
Day 04: Sightseeing at Manali
Everyone sets out for the Hadimba Devi Temple in Vashisht Bath and then you take in the Tibetan Monastery, the Roerich Art Gallery and after lunch, go on to Naggar Castle and return for an evening's stroll through the bazaars.
Day 05: Trip to Rohtang Pass
Today is when you set out for Rohtang Pass, one of the highest motorable passes in the world and a trip to Snow point, a journey of two hours across steep winding roads. The Solang Valley presents a wonderful opportunity to go paragliding, horse riding or skiing in season. After that it is return to Manali and sleep.
Day 06: Trip to Manikaran
A different experience awaits you as you set out for Manikaran, about 8 kilometers away, home to the hottest sulphur springs. Take a dip, come alive, and explore the surroundings and return. On the way, you visit the Kullu Shawl Industry and then it is back to Manali.
Day 07: Manali to Dharamsala
Today's target is Dharamsala, an eight hours' drive through the magical countryside of Kangra Valley. It is late evening when you arrive and you check in to your hotel, refresh yourself and take a stroll to St John Church and the Tibetan market before retiring for the night.
Day 08: Dharamsala to Dalhousie
Early morning and tourists start off for McLeodganj where his Holiness the Dalai Lama, resides. Tibetan rituals, ceremonies and food leave a mark on you after which it is time to go to Dalhousie, one of the most favored hill resorts of the British. There are glades, nooks and corners in this charming resort where you visit the Martyr's Memorial and then visit Satdhara.
Wake up to the crisp biting fresh air of the morning and enjoy a lovely breakfast after which you will visit Khajjiar, the mini Switzerland of Himachal. It is out of this world and the view is quite breathtaking. A short trip to Chamba on the banks of the Ravi River and then you spend the night at Dalhousie.
Day 10: Dalhousie to Amritsar
Today you will drive on to Amritsar, a trip of five hours. Naturally, you visit the Golden Temple and the Durgiana Temple before proceeding to the Wagha Border to have a look at the other side.
Day 11: Amritsar to Delhi
From Amritsar, you go on to Delhi in the comfortable coach. You have the option of a short break at Kurukshetra and then finally arrive in Delhi where your tour ends.
Himachal tour is so satisfying with Namaste India trip tour, yet it leaves you wanting more and you make a promise to come back with more time at your disposal to explore its fascinating delights.