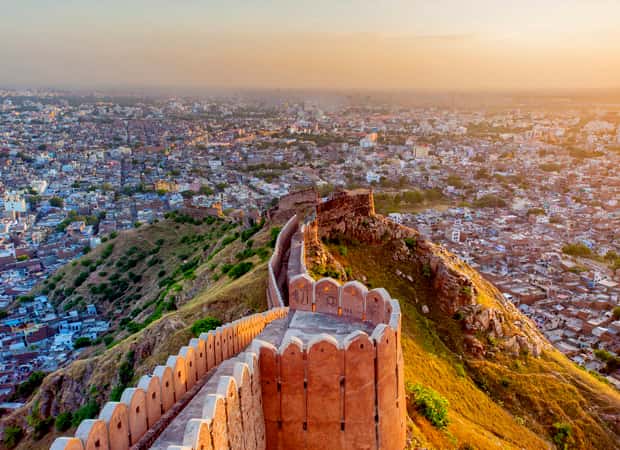 Rajasthan Travel Guide
| | |
| --- | --- |
| Capital: | Jaipur |
| Population: | 68,548,437 |
| Religion: | Hinduism 88.49 % | Islam 9.07 % | Christianity 0.14 % | Sikhism 1.27 % | Jainism 0.91 % | Buddhism 0.02 % |
| Area: | 342,239 Km2 |
| Language: | Rajasthani, Hindi and English |
---
Weather:

30° C - 10° C
Ideal Duration: 2-3 Days
Best Time: Oct-Mar
Nearest Airport: Jaipur
What makes Rajasthan an exotic holiday destination? Is it the colorful culture, Delicious Food, Ethnic Tribes, remarkable architecture or the welcoming people who make you feel right at home? This place is not just a destination it is a whole experience. From living like the royals to going through the top tourist attractions and immersing yourself in its vibrant colorful culture, Rajasthan tourism has garnered some well-deserved attention from travelers and explorers from all over the world. The grandeurs here stand proudly and majestically demonstrating the rich heritage this land is proud to be blessed with.
Rajasthan is like a living time machine that propels you back into the bygone era of palaces and forts which leave you feeling overwhelmed. A must-visit destination for travelers from all over the world and of varied interests Rajasthan has a number of shades ranging from wildlife jeep safaris, hot air balloon rides, and hiking explorations to pilgrimage destinations, a cultural tour of the tribal population and fort visits. People have also recognized its potential as an exotic wedding and honeymoon destination as well in places like Jodhpur, Udaipur, and Jaisalmer, etc. which offers a leisurely, peaceful and a charming vibe unlike anywhere else.
Preserved by the barren undulating mounds of the arrival ranges blended with a fascinating vintage charm that still lingers in its streets, souvenirs, eateries, people a Rajasthan tour guide aims at giving you the best taste of this place of promises.
Camping on the hills is a common occurrence, but camping in a luxury campsite on the desert land is something that one must have at least once in a lifetime. Every step of the way here you will be able to unfurl some interesting fact, folklore or historical story.
This desert state of India which is also referred popularly to as the land of palaces or maharajas attracts tourists from across the globe who can be seen in places like City Palace, Amer Fort, Hawa Mahal, Jal Mahal in Jaipur; Lake Garden Palace, City Palace, Vintage Car Museum in Udaipur; Mehrangarh Fort, Umaid Bhawan Palace, Kaylana Lake in Jodhpur; Jaisalmer Fort, Gadisar Lake, Sam sand dunes in Jaisalmer; Junagarh Fort, Lalgarh Palace, Sadul Singh Museum in Bikaner and the list goes on. This clearly paints the picture that even a month is not enough to explore all the rich jewels Rajasthan is home to.
The real beauty of this place is clear with the fact that it caters to every type of tourist ranging from architectural enthusiasts, history buffs, foodies, peace seekers, adventure lovers and even pilgrims of different religions. The exquisite collection of royal memorabilia that remains well preserved represents the true spirit of respecting the past and taking pride in your ancestry. Take a dip into the time when everything was different and experience the incredible past consisting of sheer opulence, riches, and heritage. What better way of spending your holiday that going to a place where everyone is satisfied.
About Rajasthan
Gracing the northwestern part of the Indian subcontinent is the glorious and opulent state of Rajasthan. Dotted with magnificently created works of expert and fine craftsmanship the palaces, structures, and forts present and well preserved here shows the rich past of India. Bound on sides by some of the most affluent states on its borders like Punjab, Haryana, Uttar Pradesh, and Madhya Pradesh, Rajasthan stands tall as an exotic tourist destination which is visited by tourists from all over the world and across the globe. The vibrant culture of the local ethnic population here adds a sense of warmth and comfort which is combined perfectly with a varied collection of interesting and simply awe-inspiring attractions is what sets this state apart.
The name literally translates into 'the abode of the maharajas' and formerly referred to as Rajputana state in the past, before independence, this place had several princely states and chiefs hips. Later on, after the onset of the British Rule, it became incorporated with the country as a whole and was renamed Rajasthan. Its unique landscape mostly comprises of the expansive brown sandy desert but is also home to a charming hill station called Mount Abu which attracts hordes of extended weekend goers.
In first glance the vegetation of this land remains predominantly scrubs and scattered forest regions. These look like a small oasis and offers relief to the wandering nomads and tribes who live here.
Although the tree presented here is scarce the golden dunes here make up for it which looks like a painting. It offers the perfect place for serving as home to animal collection of leopards, sloth bears, Indian Sambar Deer, Chital, etc. all this put together Rajasthan is a wonderfully offbeat location to indulge in some fun adventure activities in places like Keoladeo National Park, Alwar, Jaisalmer, Bharatpur, etc.
Did you know that more than 1/10th of the population in Rajasthan comprises of aboriginal or tribal people. Some of the most popular ethnic tribes include the minas, Banjaras, Gadia Lohar and Bhil among others. Rajasthan has proudly served as the site for the oldest civilization in the world that goes by the name of Indus valley civilization. Another interesting feature about this state is that you can stay at a traditional home in a remote village or indulge in a luxury resort; it gives you the best of both worlds.
From golden sandy deserts and camel rides to immersing yourself completely in a rich ethnic and authentic cultural heritage experience. In this day and age of rapid modernization, people tend to lose touch with reality and forget about the incredible past but Rajasthan is one place that very beautifully brings the visitors in touch with what the real colors of vibrant India are. It is an unforgettable journey for everyone looking to relax like the royals, indulge in the rich opulence and take a stroll in the glorious paths which was once walked by the kings.
Holiday Packages
Rajasthan is a whimsical land offering a plethora of experiences and activities for the curious traveler. The holiday packages for Rajasthan are designed perfectly and curated with the help of travel experts guaranteeing a holiday of a lifetime. Each package caters to your liking and interests so that you experience the Rajasthan you have dreamed of. Priced decently and reasonably these packages are flexible and very comfortable in nature. Explore the varied plethora of palaces, forts, temples, archeological sites and architectural masterpieces this place has to offer. So what are you waiting for, go ahead and book the perfect package for your family, friends and loved ones.
Things to Do
One cannot simply get bored in Rajasthan due to the presence of a range of interesting and fun-filled things to do. Camelback rides, staying in desert camps, going on sand dunes bashing rides, ATV Rides, going sightseeing and indulging in various spa and naturopathy activities are just a few of the things to be listed. One can even explore and help the local businesses and handicrafts industry by shopping at one of the many local market places and colorful charming bazaars or gorge on delicious local Rajasthani Food (especially the Thali).