We all know Rajasthan for its unmatched opulence which is displayed through its marvelous palaces and forts. This place offers everything to make you feel like one of the royalties. Apart from the obvious display of rich heritage and well-preserved age-old culture the clothing style and attire of the Rajasthani folks are appreciated all over the world. Marked by bright bold colors and light fabric the men and women traditional clothing here is very quirky to look at while simultaneously being functional even during the harshest summer months.
Here are the traditional Rajasthani men and women clothing attire
Traditional Men Attire: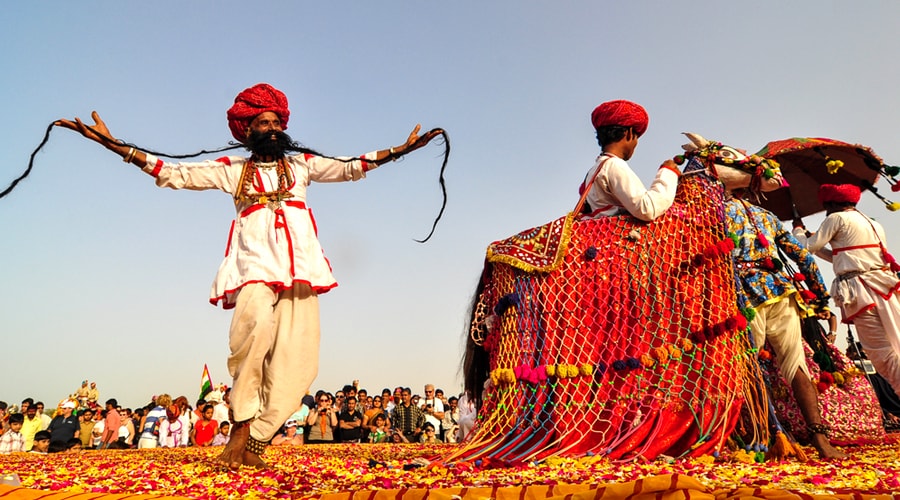 Angrakha – This is one of the most common pieces of traditional men clothing that in other words can also be called a kurta. The literal meaning of Angrakha is protecting the body which is an apt name for this upper body garment. This clothing is tied all around with the help of laces and not buttons. The fabric utilized for its production is cotton since it is the lightest and the most breathable piece of fabric which keeps the body safe and cool. An Angrakha can be seen designed in 2 ways; one of them being a frock-like design called Kamari Angrakha and the other one being the knee-length Angrakha that are more commonly worn by the locals here. During special occasions and festivals, men wear multicolored and designer Angrakhas as well.
Dhoti / Pyjama – Rajasthani men wear a dhoti or a Payjama which is like a track pant made out of cotton material. They wear it on a daily basis since it suits their living conditions. These pieces of lower clothing are often paired with a loose long shirt called mufti or a Kurta or the Angrakha mentioned above. Rajasthani men can also be seen wearing dhoti especially in the more remote villages and regions of this state. A Payjama is not necessarily long till the ankle, men take the liberty of altering its length according to their liking.
Pagri / Turban – A traditional folk attire of a Rajasthani man is incomplete without a turban or a Pagri and can be seen on men from the moment you enter this place. This piece of headgear accessory is made by wrapping a .2 meter long piece of cloth that is available in a variety of styles, designs, colors, and patterns. This is a sign of honor and a mark of being closely attached to their heritage. People belonging to different communities and tribes mark their ethnicity by wearing different colored or patterned Pagri. During some special occasion like weddings or festivals men wear safas instead of Pagris which are shorter yet a lot broader in size as compared to a regular Pagri.
Traditional Women Attire:
Ghagra – This is one of the most iconic and landmark pieces of traditional women clothing in Rajasthan which consists of a colorful long skirt with a narrow waistline and a broad base that pans out till the bottom. It does not touch the ankle but stops just above it in order to make the footwear and foot ornaments visible. There is no limit to the type, style, design, pattern, and range of colors one can find in Ghagras. The skirt is made out of several pleats along with being studded with a number of different types of ornaments to adorn the whole look. Just like the rest of Rajasthan the primary and the most economical material for its creation is the cotton fabric. Women pair it up with a short Kurta or a blouse called Cholis which are also mainly made out of cotton.
Choli – A traditional choli worn by a Rajasthani woman is mainly and majorly made out of cotton fabric and worn in their daily life. During special events and festivals, women can be seen wearing Cholis made out of silk material that adds on to the fashionable value. The reach of the length of the Choli depends on various factors of the woman wearing it like caste, religion and the age which makes it kind of like a representation of their personal life and beliefs.
Odhni – Just like a Pagri is to a man in Rajasthan the main accessory without which the attire is considered to be incomplete is an Odhni or a Dupatta in the rest of India. The style of wearing this Odhni involves tucking the one end of the dupatta inside the long skirt near the waist and draping the other end of the Odhni over your head or shoulders. This is a 2.5 – 3-metre long piece of printed cloth available in different designs and colors as per the liking of the women. The type of Odhni worn by each woman depends on her religion and caste so one can differentiate their religion from the other depending on the type of Odhni they are wearing. it is mandatory for women of Rajasthan to cover their faces with their Odhni in the form of a veil as a way of showing respect to the elders of the family.
Jewelry – The state of Rajasthan is extremely famous for the different types and styles of jewelry that is found and created here. The taste and style of traditional and ethnic Rajasthani jewelry is extremely specific and unique consisting of semi-precious and precious stone studded trinkets. In case of jewelry, men can also be seen wearing neckpieces or ear studs. A rich Rajasthani local can be seen wearing pearl or a gold chain while the common people generally wear silver Hansli or a big round bracelet and is worn around the neck. Women also wear big chunky Jhumkas, multicolored bangles, anklets, rings, nose rings, and much more. The design inspiration for this jewelry can be seen has been taken from the natural elements like sun, moon, flowers and leaves. it is said that every one of these designs hold some deep-rooted and spiritual meaning behind it.