Whitewater rafting is an exhilarating, thrilling activity. It is becoming increasingly popular with youth and more mature people for the excitement it brings. This activity is usually carried out in turbulent rivers with swirling, eddying waters that can thrill, terrify and send your heart racing as the inflatable in which you travel is tossed about by the wildly raging waters. It needs skill and strength to manage a boat but once you do, the sense of power and mastery over raging waters can be deeply satisfying. Usually, the North of India, home too many rivers that begin their journey as torrential streams, is the happy hunting place for white water rafting. In recent times it is Rishikesh that has become the star destination for people who are into this daring adventure sport. NamasteIndiaTrip offers a number of white water rafting experiences in this amazing destination. In addition, you can also indulge your taste for rafting, kayaking, rock climbing, rappelling, cliff jumping, body surfing and river crossing in a holiday that packs in action from start to finish. We have tours for different age groups and for different budget. Check them out.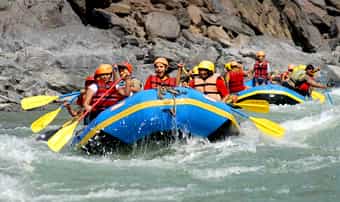 | | |
| --- | --- |
| Tour Duration: | 02 Nights / 03 Days |
| Destination: | Shivpuri - Rishikesh - Kaudiyala - Brahmpuri |
| Tour Price: | On Request /- |
Day 01: Arrival in Rishikesh
Our tour guide welcomes you and takes the group for the jungle trek to the waterfalls; about 4 km away after which we trace our way back to base camp for the evening tea by the bonfire. Rest. Night falls and dinner is served, again around a crackling campfire after which you chat, exchange jokes and pleasantries until it is time to go to sleep.
Day 02: Rishikesh – Kaudiyala – Shivpuri
Breakfast and proceed to Kaudiyala for the wildly exciting 18 km river rafting trip down turbulent swirling rapids. The memorable, madly exhilarating, bobbing boat ride takes you across the Wall, Crossfire, Body Surfing Rapids and Three Blind Mice. The rafting experience on this stretch over, you enjoy lunch, chat and play games until it is time for dinner by a merry bonfire. Sleep blissfully in your tents.
Day 03: Shivpuri – Rishikesh
An early morning breakfast puts you in the mood for the 16 km Shivpuri-Rishikesh stretch that will take you to Ram Jhula. This is a stretch of foaming, frothy, turbulent waters. Passengers usually scream and shout as the boat is tossed about wildly. We stop at points along the way to allow you to go body surfing or cliff jumping. Arrive at Ram Jhula and then proceed to Rishikesh where the exciting and most thrilling trip comes to a delightful conclusion. The tour guide bids you a fond goodbye and you promise to return.